Dr. Swami Rama remembered on his 22nd Mahasamadhi Diwas

This year, on 13th November, SRHU and our Promoting Society, Himalayan Institute Hospital Trust (HIHT) observed 23rd Mahasamadhi Day in remembrance of our Founder and Guide, His Holiness Dr. Swami Rama.
Former Prime Minister of India, Dr. Manmohan Singh graced the auspicious occasion as the Chief Guest.  The day started with Dr. Singh paying homage to Swami Ram at Swami Rama Center.  He was welcomed by SRHU Vice Chancellor Dr. Vijay Dhasmana, Pro Vice Chancellor Dr. Vijendra Chauhan and Mr. Vikram Singh.
In his public address, he lovingly remembered the time he first visited the campus in 1994, as the Finance Minister of India to inaugurate the first phase of Himalayan Hospital building which was the first private hospital of the state (Uttar Pradesh) and to install the statue of Lord Buddha.
He fondly reminisced his experiences with Swami Rama.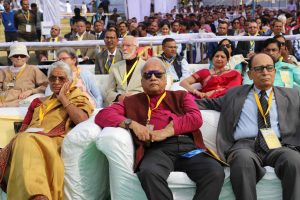 Quote "In 1994, the first phase of the Himalayan Hospital was completed and I had the privilege of inaugurating it. Amidst all the hustle and bustle of the inaugural ceremony, Swamiji was absolutely calm and composed, as if it was just another day, just another activity. He was personally involved in everything, yet appeared so free. I was deeply touched by Swamiji's hospitality. Not once did he make me feel that I was in the company of a great Himalayan Master. A perfect host, he ensured that my smallest needs were fulfilled. He walked me through the corridors of the hospital, sharing every single detail. He talked about the kind of treatments that would be provided by the hospital and how each department would serve the patients. When Swamiji was talking about the hospital, its facilities and how this hospital would provide respite to the people in the region and in its hinterland, I could sense his passion, energy, and sankalpa Shakti (determination) for getting this hospital built, despite all the challenges he faced. I also remember him stating that most of the diseases are psychosomatic and our living lifestyle make a huge impact on our overall being i.e. body, mind and soul. I was astonished that Swamiji, a doctor of Homeopathy, had so much knowledge about Modern Medicine, Ayurveda, Holistic Health and Complementary Therapies. He was a firm believer and an advocate of disease prevention and maintenance of optimal health." (Unquote)
Dr. Singh also recollected that the issue of rural development was very close to Swamiji's heart and Swamiji truly gave us the guiding principle to live our life with Love | Serve | Remember.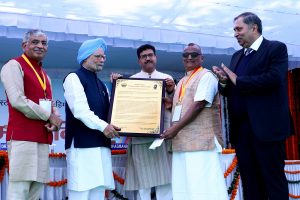 He then shared that having held the highest offices of the nation, his personal experience was that real happiness comes from serving and helping others.
As a tribute to the Master who worked tirelessly for improving the lives of people living in the remotest of the areas, University recognizes and honors organization who have dedicated themselves in service of humanity with "Swami Rama Humanitarian Award".  The award consists of citation, a gold medal and a cheque of Rs. 5 lakh. This year recipient of this prestigious award to Sewadham Ashram, Ujjain who are rehabilitating elders, abandoned children, differently-abled children, patients suffering from cancer, HIV and other terminal diseases with courage, commitment, compassion and empathy. Shri Sudhir Bhai Goyalji, was overwhelmed with the recognition by the University.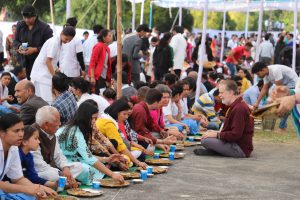 We have set a tradition of recognizing the good work of SRHU family.  This year 24 employees were recognized for their extraordinary contributions to the organization and were awarded "Best Employee Award" in the categories of Clinical, Best Teacher, Para Clinical, and Non Clinical.
The Mahasamdhi Diwas concluded with distribution of Prasad (offering to almighty) by way of Bhandara to approximately 8000 including people from nearby villages.