SRHU Conclave: Transition to Transformation
Experts discuss central theme 'Towards Peace, Harmony and Happiness'


Swami Rama Himalayan University in collaboration with Pranab Mukherjee Foundation (PMF), New Delhi and Centre for Research in Rural & Industrial Development (CRRID), Chandigarh organized a regional conference titled "Towards Peace, Harmony and Happiness: Transition to Transformation".
In our society today, there is an increase in anger, conflict and instances of violence. These are symptomatic of deep seated frustration, unmet aspirations and fear- all of which lead to anger. This anger then leads to incidents of rage and violence, multiplying conflicts. In a multi ethnic, multi-linguistic and plural society like India, the civilizational balance of unity in diversity demands that the society must constantly work towards resetting the compass for a peaceful, harmonious and happy environment.
The conference was organized at SRHU with an objective to discuss and deliberate transition to transformation through spiritual, scientific & technological, economic, political, environmental and social & cultural upliftment to attain Peace, Harmony and Happiness. Thought leaders, visionaries, policy makers and experts from diverse fields of work such as politics, industry, education, health, environment, etc., came together to share insights and discuss ideas.

Hon'ble Chief Minister of Uttarakhand Shri Trivendra Singh Rawat was the chief guest for the inaugural session on 28th December. The session was presided over by Hon'ble Dr. Murli Manohar Joshi, Member- Lok Sabha & Former Union Minister. Post lamp lighting session and Guru Vandana, a welcome address was delivered by the Hon'ble Vice Chancellor, SRHU, Dr. Vijay Dhasmana. A background of the program was given to the audience by Prof. R.S. Ghuman, Program Coordinator – CRRID. Prof. Ghuman mentioned how PMF and CRRID have been making dedicated efforts for peace, harmony and happiness of the humankind. In this regard, the two organizations have been holding nation-wide conferences to bring this theme into public debate and discourse through exchange of thoughts.
Prof. Dr. Murli Manohar Joshi in his presidential address at the inaugural session emphasized on a constructive change in the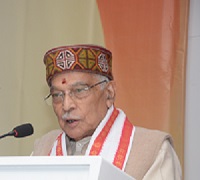 society instead of one that is destructive. He said that for constructive transformation in society, focus should be on improving social and ethical values, human welfare, environmental protection and correcting the shortcomings. "Today scientific and technological change has had a profound effect on the social relations and emotional status of the youth. We are living more in the virtual world. There is loss of human sensibilities in communication in today's generation and it has become more dependent on the digital and virtual. We also need to understand the mutual dependence on humans and the environment and take environmental protection seriously. Focus has to be not only GDP increase but should also be on overall human development."
Uttarakhand Chief Minister Trivendra Singh Rawat gave his remarks on the progress made by the efforts of the two organizations. He said that the dream of a new India and world peace can be fulfilled only by moving forward in unison with ancient and modern values. "It is a matter of concern that though our GDP is growing rapidly and we are the fourth largest economy of the world, we are lagging behind in happiness index. There is need to look back into our past", he said.
The conference was broken down strategically into multiple sessions to dive deeper into each aspect of our society.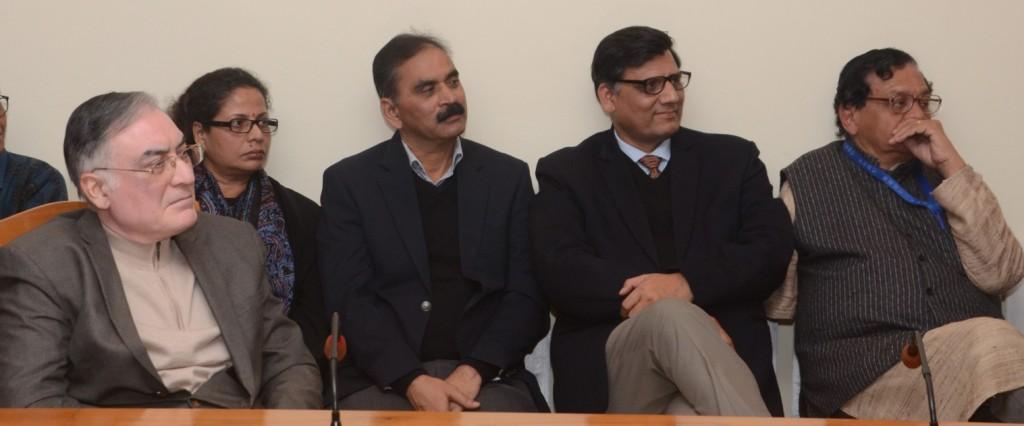 In the first session titled Spiritualism and Transformation, Dr. Vijay Dhasmana, VC, SRHU and Col. (Retd.) Subash Bakshi,
CRRID shared their insights on the subject. The session was chaired by Dr. Pranav Pandya, Head, All India Gayatri Pariwar, who also inaugurated the two statues of Charak- Indian Father of Medicine and Sushruta- Founding Father of Surgery at Himalayan Institute of Medical Sciences, SRHU.
The second session, Science and Technology & Transformation, chaired by Dr. Ravi Kant, Director, AIIMS, Rishikesh, had Dr. S.K. Mangal, Sr. Vice Chairman, CRRID and Dr. Rajendra Dobhal, Director General, UCOST enlighten the participants with their knowledge and wisdom.
Shri Prakash Pant, Hon'ble Finance Minister of Uttarakhand while chairing the session Economic Development and Transformation said that regular changes are made in the schemes for societal development. He highlighted the importance of people- oriented development of schemes so that everyone in the society is benefited. Prof. S.R. Hashim, Former Member Secretary, Planning Commission, Dr. Vijendra Chauhan, Pro VC, SRHU and Prof. A.K. Nanda, CRRID, Chandigarh were the other speakers.
The fourth session of the conference was titled Political Transformation. Prof. Mohammand Khalid, P.U., Chandigarh shared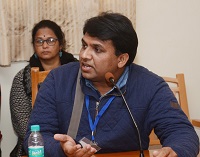 insights and the political milestones achieved by the country thus far.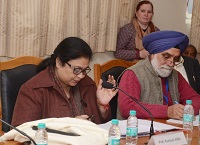 In the session Social & Cultural Transformation Prof. (Retd.) R.S. Sandhu, GNDU, Amritsar and Prof. Kumool Abbi, P.U., Chandigarh were the speakers while Prof. (Retd.) Partha S. Ghosh, JNU, New Delhi chaired the session. In all earnest, they emphasized that traditional practices and modern relevance conflict is healthy as it brings about revolutionary changes for the betterment of the society.
The valedictory address was delivered by Dr. C.S. Nautiyal, Vice Chancellor, Doon University and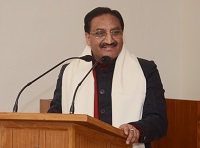 presided by Dr. Ramesh Pokhriyal 'Nishank', Member of Parliament & Former Chief Minister of Uttarakhand. Speaking on the occasion Dr. Nishank said that change is essential for achieving high ideals for man and society. The conference concluded with a vote of thanks by Dr. Rashpal Malhotra, Executive Vice-Chairman - CRRID.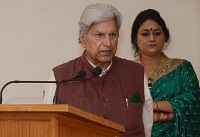 The conference proved to be a great success as the participants discovered multiple facets of peace, happiness and harmony. Probing on the problems faced by society and the policy makers ensured that each participant was forced to develop multi-dimensional thinking for decision-making in future.