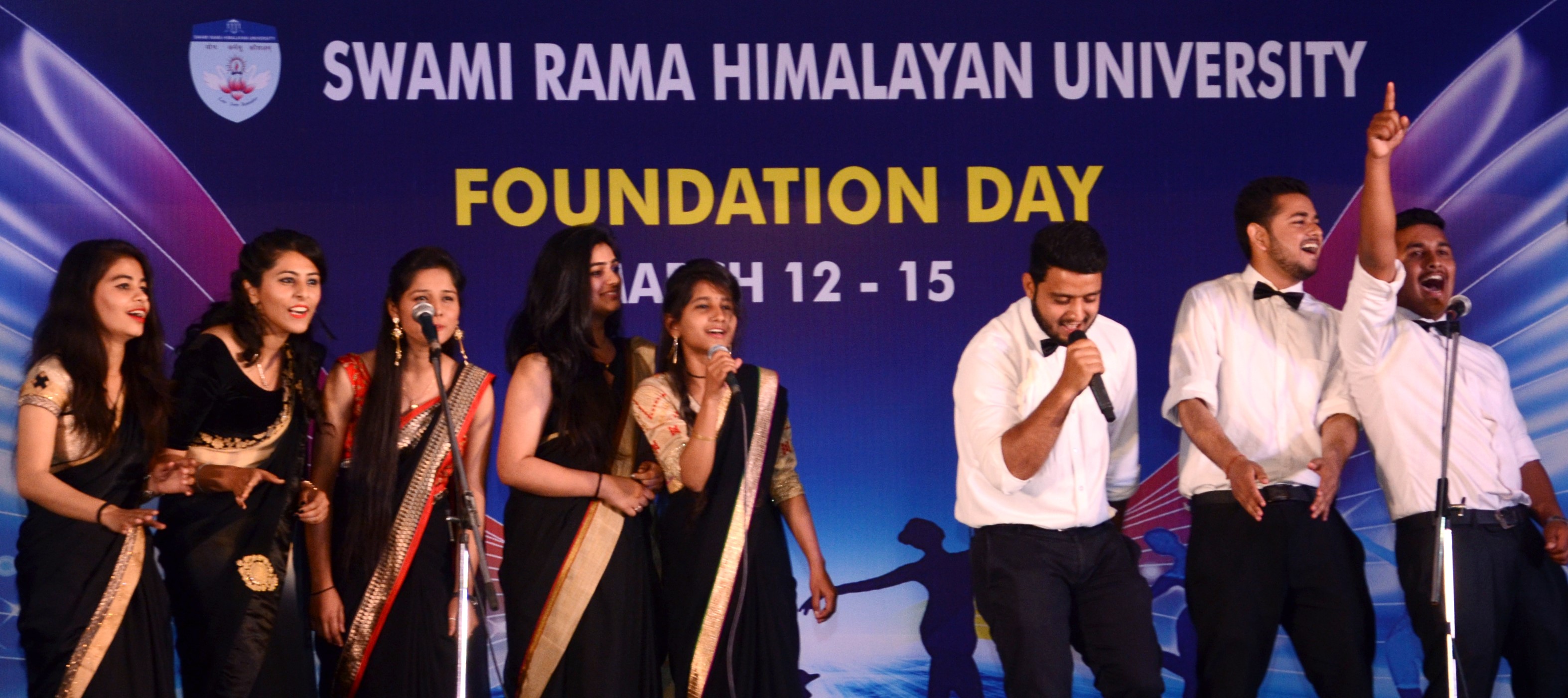 SRHU celebrates its Foundation Day on 12th of March Every year.  The Day marks the celebration of our glorious past, our standing in the cheerful present and our vision for the hope-filled future. The joy of learning we imbibe in such beautiful surroundings and wonderful facilities as we develop in mind, body and spirit only makes us feel blessed. We, at SRHU are proud of each and every student, alumni, staff and our community. In this exhilaration and jubilation we celebrate our community and commitment to the society.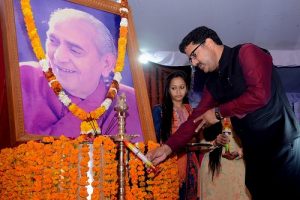 This year, "Foundation Day" celebrations, spread over four days, in an open air theatre, commenced on 12th March, 2018. Chief Guest Hon'ble Vice Chancellor, Dr. Vijay Dhasmana inaugurated the program by paying homage to HH Dr. Swami Rama, with the lighting of the lamp.
Our students, teachers, staff and community members participated with phenomenal enthusiasm and zeal. Students pursuing medical, paramedical, bio-sciences, nursing, management, engineering & technology, not only delivered mesmerizing cross culture performances be it folk dances or songs from Bengal, Gujarat, Maharashtra, Punjab, Rajasthan, Uttarakhand etc. but also moderated the entire program by effectively engaging the audiences.
SRHU has always been a powerhouse of talent and audience was left spell-bound on multiple occasions. Songs, dances, skits etc. enthralled the audience which reflected in the resounding cheers.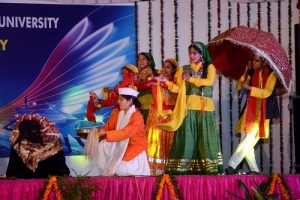 The first act was a group dance by Paramedical - BMLT students on Nanda Devi Raj Yatra gave a glimpse to Garhwali folk dance.  Kiran & group, again from the Department of Paramedical, delivered a heart rendering performance depicting the plight of acid attack victims. While Simran & group from Himalayan Institute of Management Studies (HIMS) presented captivating dance from Garhwal, Akankha & Group from Himalayan College of Nursing (HCN) enthralled the audienc e with Lavani from Maharastra. Vaishali & Group from Himalayan School of Management Studies (HSMS) presented a heart rendering skit on Vridhashram (Old age home) and Pravesh Bairwan from Himalayan School of Engineering & Technology (HSET) sang a touching Bollywood song "accha chalta hoon".
SRHU Faculty and Staff also enthralled the audiences with their captivating performances. Sunil Khanduri & Group from Rural Development Institute (RDI) an allied unit of SRHU performed soulful Trijugi Vandana. Students of "Flying Birds School" performed on Ghoomar song from movie "Padmavat". Dr. Jyoti Diwedi & Group mesmerized the audience with beautifully choreographed & perfectly coordinated Kathak dance.  Nursing Staff Mili and Varsha sang a poignant duet "Kanha soja re" which is about putting Lord Krishna to sleep.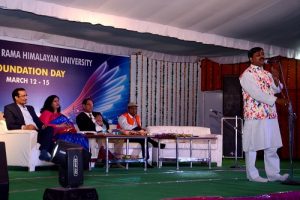 Foundation Day celebrations concluded with extremely exciting "Kavi Sammelan".  Poet Vineet Chauhan from Alwar, Poet Sampat Saral from Jaipur, Poet Sudeep Bhola from Jabalpur, Dr. Vishnu Saxena from Aligarh and Dr. Sarita Sharma form Delhi captivated the audience by their powerful renditions. The audience experienced variety of poetic flavor ranging f rom bravery & heroism to laughter, satire, love & surrender etc.
During the celebrations various awards were distributed in the field of academics, sports, literary and cultural performances.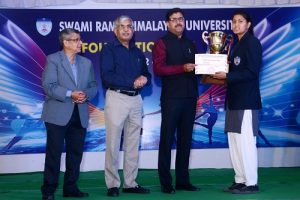 Academic Awards were given to 114 students on Day one.  Paramedical students were the clear winners leading with 59 awards followed by Nursing 31, Engineering 24, Managemen t 19, and Medical 13.
Sports awards were distributed on day two. Anirudh Uniyal (M) and Priyanka (F) were the recipient of "Best Athlete Award".  Sanjay (M) and Anjali (F) won the first prize for 100 meter sprint followed by Skhakir (M) & Asmita (F) winning the medal for 200 meter race.  Himalayan Institute of Medical Sciences (HIMS) won the sports trophy across 5 academic units.
Literary Awards were conferred to 27 students. Raghav Bahuguna (HSET) & Sneha Deoli (HCN) won the debates in Hindi and English respectively.  Shraddha Tiwari (HCN) & Atul Rawat (HSMS) were the Poetry Competition winners in Hindi & English separately.  Yamuni Bhandari (HIMS) won the Painting Competition, Shaily Tiwari (HIMS) Sketching, Sylvie Slynus (HCN) Card Making, Kavita Aswal (HCN) Mehendi designs and Ujjwal Rastogi (HSMS) Photography.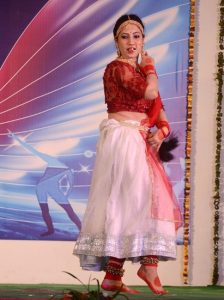 Cultural Awards were awarded to the students where Parvesh Bairwan (M), HSET Jyoti (F), Paramedical were the winners in Solo Song category, Amit Payal & Sumit Kotiya, HCN in Duet Song, Anamika & Group, HCN in Group Song.  Suhail Kurshid (M), HSMS & Shivani Thapa (F), HSET won the award for Solo Dance performance, Vivek & Marisha, HSET for Duet Dance, Krishna Mandal & Group, HCN for Group Dance.  Award for the Best Skit went to Sandhya Manral & group, HCN.  Apoorva & Group, Paramedical were the clear winners for Dance Drama & Best cultural performance of the entire program
The Faculty and Staff of SRHU participated with equal zeal and enthusiasm.  Manish Kumar (M), CRI & Tulika (F), Nursing Supervisor were the winners in the Solo Song category.  Tulika (F) won the solo dance award and Group Dance award went to Dr. Jyoti Diwedi & Group, Medical College