Swami Rama Himalayan University (SRHU) along with its parent body Himalayan Institute Hospital Trust (HIHT) celebrated 25th Mahasamadhi Diwas of founder Dr. Swami Rama in a simple ceremony on 13th November, 2020. 'Paani Rakho' activist Sachchida Nand Bharti was awarded with the Swami Rama Humanitarian award, while 21 employees of the University were recognized for their services to the organization with Best Employee award. Mahamandaleshwar Swami Abhishek Chaitanya Giri Ji of Jagadguru Sanyas Ashram was the Chief Guest on the occasion. Annual calendar of the organization was also released during the event.
The Opening
The event began with lamp lighting ceremony followed by Guru Vandana by the students and staff. Thereafter, Dr. Vijay Dhasmana, Member, Presidential Committee, HIHT and Vice Chancellor, SRHU took to dias. Citing example of the ship 'Titanic', he mentioned how there are three kinds of people in the world. First kind are the ones who live for themselves in the world. The second kind are the ones who first take care of their own problems before helping others.
While the third kind are the ones who just jump to help others without worrying about their own problems. The saints in our society are the third kind, he mentioned. Paying obeisance to his holy Master he expressed that although Guru Dev today may not be physically with us, we have all assembled here to pay our homage to him.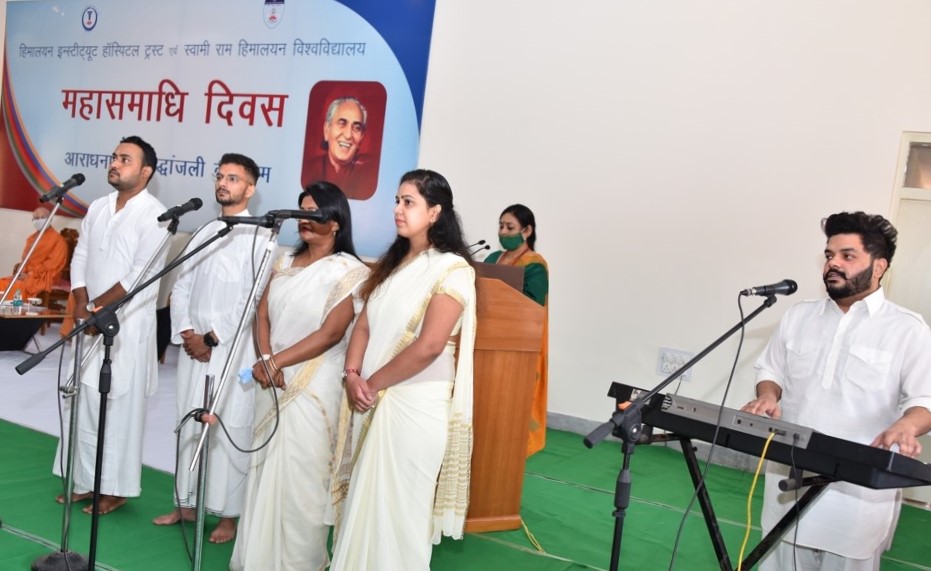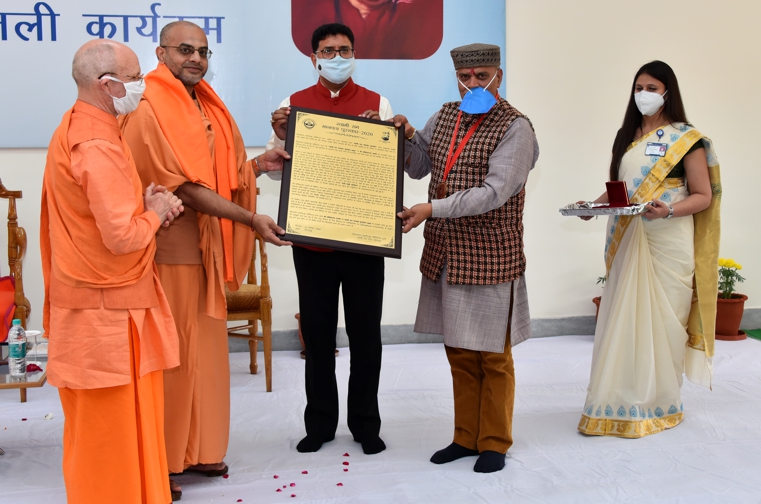 Shri Sachchida Nand Bharti - Swami Rama Humanitarian Awardee, 2020
Shri Sachchida Nand Bharti is a social worker devoted to protection of the environment through forest and water conservation. Shri Bharti became involved in environmental protection while still a student by taking part in the Chipko movement of the 'Dalyan Ka Dagrya' organization which mobilized villagers to hug trees slated for felling by indiscriminate contractors. In 1979, Shri Bharti returned to his village of Uffrainkhal, District Pauri after completing his education. He became a teacher in the Intermediate college there. He observed the hardships faced by women in fetching water, fuel and fodder. In 1982, he founded the 'DoodhaToli Lok Vikas Sansthan' to promote afforestation, water conservation and ecological awareness. In 35 years, this organization operating with a very small budget, developed nurseries, planted 40 lakh trees and dug 30,000 small pits for rain water harvesting. The pits became ponds which not only conserved water that would have otherwise flowed downhill rapidly but also resulted in the rebirth of a river which they named Gad Ganga.
Further, the threat of forest fires was greatly alleviated by the prevailing moisture around these pits. Now 136 villages have developed their own dense forests through this 'PaniRakho' movement. The work of Shri Sachchida Nand Bharti is remarkable in that he has had to contend with soil erosion, landslides, flash floods and water scarcity in order to preserve forests, water resources, pastures, fuel sources and dignity of rural women. He has refused funds from the Government as well as International organisations and has achieved all this with a spartan budget and the full-fledged participation of the rural beneficiaries. A gentleman, he has used his gentle methods to dissuade contractors and Government officials from destroying the rural landscape.
Best Employee Awards 2020

For their dedicated service to the organization 21 employees were awarded with Best Employee Award in different categories. Dr. Prakash Keshaviah, Member, Presidential Committee, HIHT and Financial Advisor, SRHU announced the awards for the year 2020.
Best Teacher - Dr. Taruna Sharma, Professor, Dept, of Pharmacology, HIMS
Best Clinician - Dr. Shahbaj Ahmad, Associate Professor, Dept. of Medicine (Nephrology)
Best Para-Clinical Employee–
Dr. (PT) Arun Pathak, Assistant Lecturer, Dept, of Physiotherapy
Mr. Shiju Devassiya, Asst. Nursing Superintendent, Nursing
Mr. Youdhbir Singh, Asst. Supervisor, Nursing
Ms. Rajni Prasad, Incharge, Nursing
Ms. Seema K. Chaudhary, Ward Incharge, Nursing
Mr. Tom Antony, Staff Nurse, Nursing
Ms. Khoren Bara. Staff Nurse, Nursing
Mr. James Robert Massey, Asst. Technician, IPD
Mr. Manmohan Singh Bisht, Technician
Best Non-Clinical Employee -
Mr. Devender Prasad, Jr. Architect, Engineering
Mr. Gaurav Singh Rawat, Patient Care Executive
Mr. Naresh Singh, Jr. Office Assistant, N.S. Office
Mr. Deepak Singh, Jr. Office Assistant, HRD
Mr. Ajay Singh, Attendant, OPD
Ms. Sudesh Rani, Attendant, IPD
Mr. Nandan Singh, Driver, MT
Mr. Indar Singh Solanki, Mali, Gardening
Best RDI Employee –
Dr. Virender Dutt Semwal, SDMO
Mr. Kamal Nayan Joshi, Field Supervisor
Housekeeping -
Mr. Virender Negi, Supervisor
Mr. Dilip Singh, Housekeeper
The Chief Guest - Mahamandaleshwar Swami Abhishek Chaitanya Giri Ji

As the event moved towards closing, the attendees were treated to some words of wisdom by the Chief Guest, Swami Abhishek Ji. To add to the three kinds of people mentioned earlier, I say there is a fourth kind as well - the 'visionaries', who can look ahead hundreds of years, he said. With this ability these people can feel the need of the coming generations and they then act accordingly. Recognizing such efforts of these visionary people through Swami Rama Humanitarian Award, this organization and its people are doing a commendable job, he mentioned.
Great people on this earth have always created great systems to meet the needs of the people. We are all surrounded by various systems – whether it is a system of law or traffic system. These systems have a purpose. "When a person knows that he is integral part of a system, the implication is that he has a role to play. And when he understands what is his role, he becomes a contributor", he said.
Broadly, there are two kinds of people, consumers-one who always asks what is my profit while the other is a contributor. "When we become contributors to the system, not only does the system runs perfectly but in return the person matures. This mature person is what we call the spiritual evolution.", Swami Abhishek added.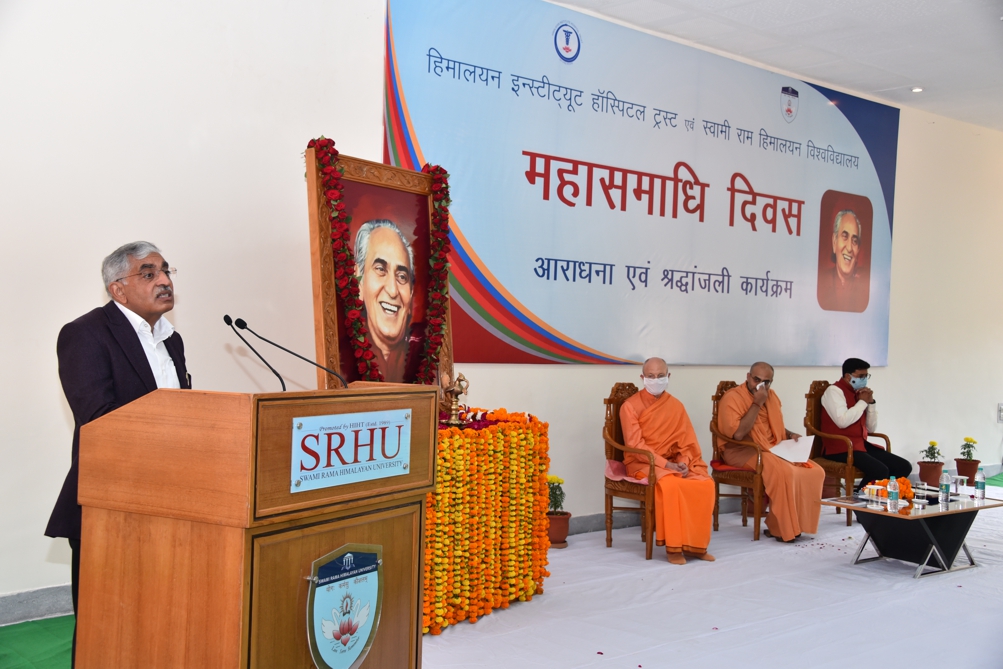 Vote of Thanks
The event came to an end with a vote of thanks offered by Dr. Vijendra Chauchan, Pro Vice Chancellor, SRHU. "Time is too slow for those who wait, too swift for those who fear, too long for those who grieve and too short for those who rejoice. But for those who love, time is eternity. Friends, let us spread the message of Love, Serve and Remember, which was very close to our beloved Gurudev", he mentioned.
Dr. Jyoti Dwivedi hosted the event gracefully.