Swami Rama Himalayan University (SRHU) and its parent body Himalayan Institute Hospital Trust (HIHT) celebrated 26th Mahasamadhi Diwas of founder His Holiness Dr. Swami Rama on 13th November, 2021. On the occasion, 'Vinoba Seva Ashram', an organization dedicated to social work in Uttar Pradesh was awarded the 'Swami Rama Humanitarian Award', while 26 employees of the University were recognized for their services to the organization with 'Best Employee' award. Union Minister of State for Defence and Tourism Mr. Ajay Bhatt was the Chief Guest for the ceremony.
Dr. Vijay Dhasmana, Member of Presidential Committee (HIHT) and Vice Chancellor (SRHU) in his opening speech threw light on the glorious history of HIHT and also informed about future plans. He mentioned how the Trust along with the University is marching on the path of public service as per the objective of Swamiji. Apart from health and education, Himalayan Institute is also playing a leading role in the field of rural upliftment. Clean drinking water has been provided in 534 villages across the country and more than 14000 toilets have been constructed. In Himalayan Hospital, more than 74000 patients were treated under Ayushman scheme. To deal with migration in the hills, SRHU is encouraging youth towards self-sustainable employment model with special emphasis on organic farming and developing heritage home stay facilities. "Higher education is only effective when it can stop migration and make youth self-employed in their area", he said.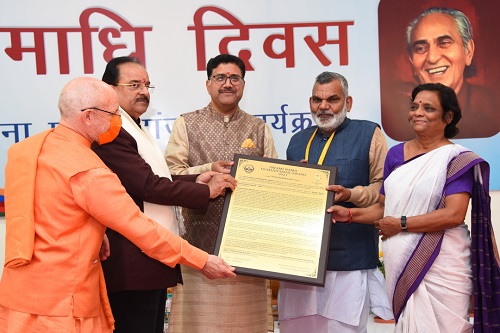 Swami Ram Humanity Award-2021 to 'Vinoba Seva Ashram'
Since the year 2003, the Himalayan Institute Hospital Trust (HIHT) has been conferring 'Swami Ram Humanitarian Award' to any one reputed institution or person doing outstanding work for the society in economic, environmental, scientific, social and spiritual fields across the country. This year the award was presented to 'Vinoba Seva Ashram', an organization dedicated to social work in Shahjahanpur, Uttar Pradesh for nearly 40 years.
As an award, the organization was presented with five lakh rupees, a citation and a gold medal.
Vinoba Seva Ashram was established in 1980 by Ramesh Bhaiya and wife Vimala Behen. The crime-ridden village of Shahjahanpur's Ban-ka-Tara (now known as Bartara) was operating an illegal liquor business. The first objective of Vinoba Seva Ashram was to make the village alcohol free. Today there are around 20 alcohol-free villages in the vicinity. Spread over 11 acres of land, the ashram is engaged in various activities guided by Gandhian principles. There are 1100 workers in the ashram. Vinoba Seva Ashram, an organization dedicated to social work, has been honored with more than 50 awards at national and international level for its incomparable contribution in the field of village self-government including education, health self-help, cow service, organic farming. These include Jagriti Award, Prakriti Gaurav Award, First Self Help Award by NABARD, De-addiction Award, State Bank of India Seva Samman, Eminent Gandhi Award by Gandhi Library, Gau Upasana Samman, Jamnalal Bajaj Award, Mahila Shiromani Award, Yash Bharti Samman by the Government of Uttar Pradesh are some major awards conferred on them.
"The direction given by the most revered Gurudev Dr. Swami Ram to the society through education and health is unmatched. By assimilating his ideas, the construction of New India can be given a new shape. Swamiji gave a high example of social service on the strength of science and spirituality. He has always been an inspiration to the society and will always be. It is a matter of pride for me to be honored in his name. Our commitment to social service will only get stronger."
Ramesh Bhaiya
Founder, Vinoba Seva Ashram
Shahjahanpur, Uttar Pradesh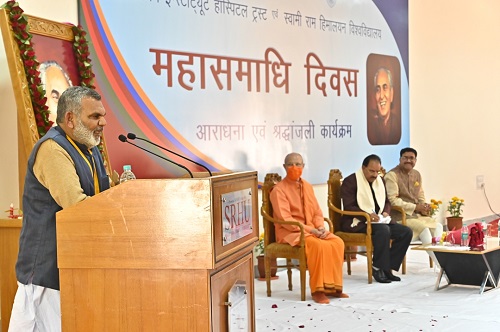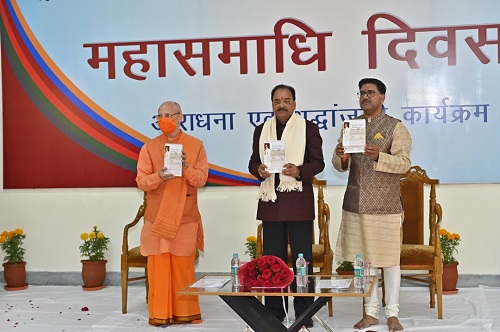 The Chief Guest
Union Minister of State for Defense and Tourism, Govt. of India, Sh. Ajay Bhatt ji said that Dr. Swami Ram ji is a world heritage and Swami Ram Himalayan University (SRHU) is a stronghold of spirituality, health and technical education in Jolly Grant. It is one of the few universities not only in the country but in the world, where doctors, nurses, engineers and management students are getting education under one roof. He called upon all the students to cooperate in the progress of the society and the nation by sharing their thoughts with each other.
Sh. Ajay Bhatt ji also released the Annual Calendar-2022 of HIHT.
Home-Stay Entrepreneurship Development Certificates
In the ceremony, SRHU awarded 'Home-Stay Entrepreneurship Development Training' certificate to the youth trained for running home-stays in different districts of Uttarakhand. Vice Chancellor Dr. Vijay Dhasmana said that in the first phase 100 youths from all the districts of the state were given training. Our target is to train around 1000 youths, he said.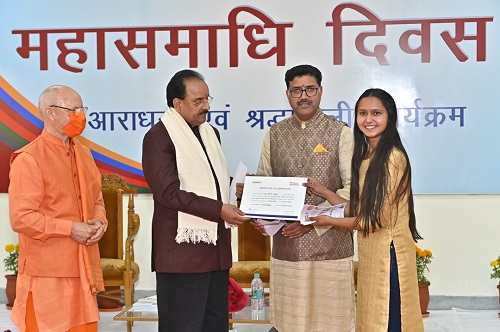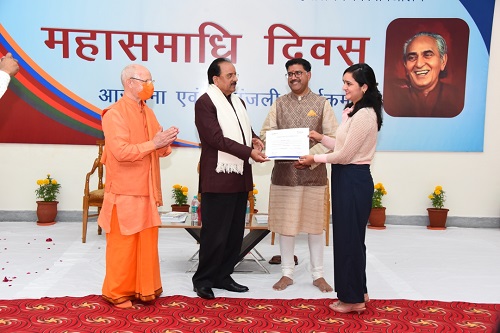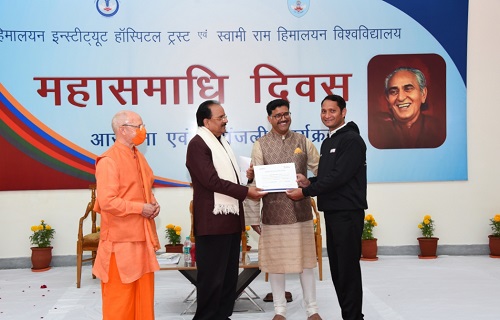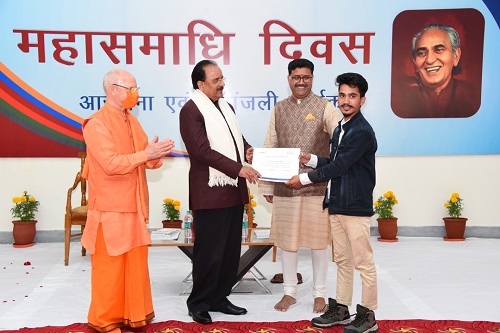 Best Employee Awards 2021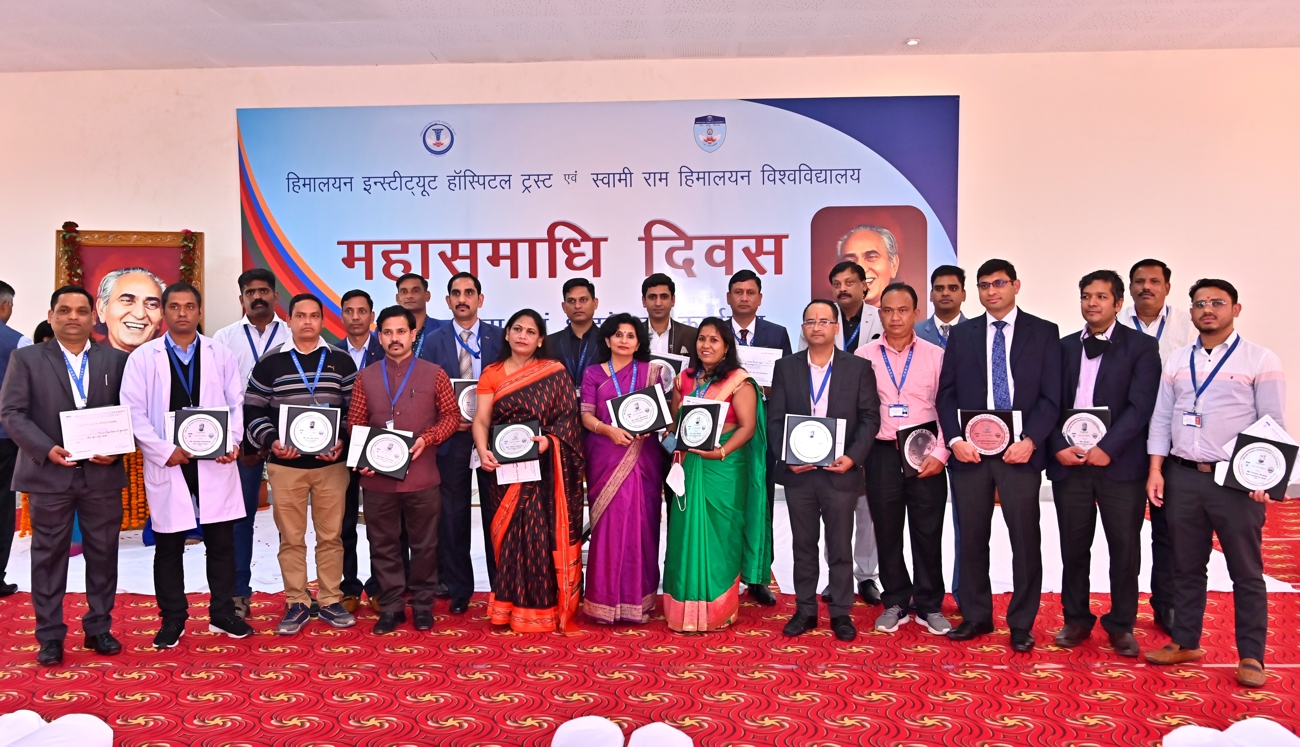 For their dedicated service to the organization 26 employees were awarded with Best Employee Award in different categories.
Best Clinician - Dr. Veena Asthana, Dr. Hemant Nautiyal
SRHU Innovation Award - Dr. Kunal
Best Nursing Award - Pradeep Kumar, Vishwanath Sharma, Gajendra Chaudhary, Jiju Philip, Balwant Singh Rawat
Best Para- Medical Award-Anita Rawat, Rajan Dev, Pankaj Kumar
Best Office Staff -Sushil Nautiyal, Vimal Singh Rawat, Rajpal Singh Negi, Manoj Kumar, Rajeev Joshi, Dolly Dhasmana, Vikram Singh Rana, Anil Singh Rathore
Best Supporting Staff - Mukesh Sonkar, Purushottam Sharma, Devendra Singh, Raghuveer Singh, Chaman Singh, Vijay Singh Rauthan, Mangal Singh Chauhan
At the end of the function, Pro Vice Chancellor Dr. Vijendra Chauhan proposed vote of thanks. The ceremony concluded with several hundreds people taking prasad in the Bhandara where students and staff participated as one SRHU family.