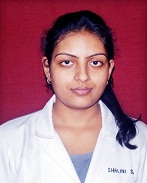 Himalayan Institute of Medical Sciences is a well-renowned and one of the most prestigious colleges in the north zone.
This institute is known for its distinguished faculty, clinical teachings and all-round education system which is amazing. Main reason for us to join this institute as it provides us with all the required knowledge, along with resources and facilities that we use in future.
We are provided with healthy environment to grow as better individuals both spiritually as well as mentally. A lot of time and sincere effort is put by our faculty in teaching us. We get priceless opportunities to interact with seniors and our professors in clinical teachings. During clinical postings they help us in understandings the theories better. Besides studies, we are also involved in sports, trained staff for both outdoor and indoor games is present, so that we can keep ourselves physically fit and life does not become monotonous. I would recommend this institute to anyone who wants to gain knowledge and become a good person.
ShalineeSingh  (MBBS Intern)