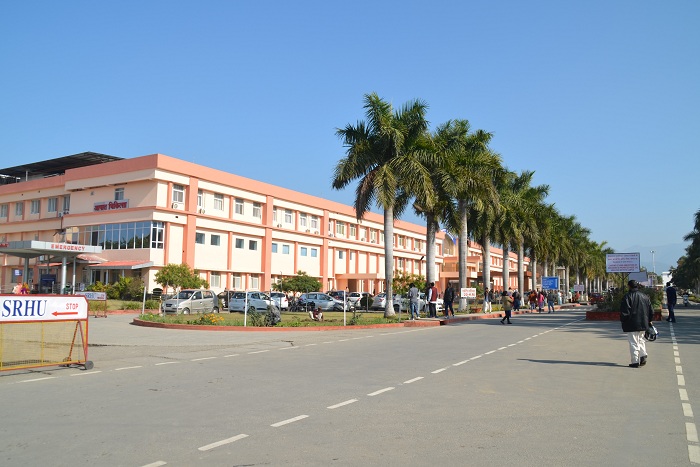 Himalayan Hospital (HH), a thousand- bedded tertiary care hospital, is rated amongst the best super-specialty, Post Graduate Teaching Hospitals of Uttarakhand.  The hospital caters to the needs of all segments of the society, including the underprivileged.  HH is a centre of excellence having a holistic approach to medical care-where allopathic practice is integrated with alternative systems of medicine and yoga in peaceful natural serene surroundings.
Its 40 bedded ultra-modern Intensive Care Unit, Coronary Care Unit (CCU), Surgical ICU (SICU), Paediatric ICU (PICU), Neonatal ICU (NICU), Cardio Vascular Surgical ICU (CTVS ICU), are fully equipped to provide critical care.
Further, its comprehensive 250-bedded Cancer Treatment Centre equipped with Modern Radiotherapy, Chemotherapy, Surgical and Nuclear Medicine is unsurpassed in service and capability and has the distinction of being Uttarakhand's one and only hospital for Bone Marrow Transplantation so far.
Cardiology centre provides Cardiac Care with CABG, Valve Repair, Heart Surgery, Angiography, Angioplasty and Pacemaker services apart from High tech Cath Lab for Angiography and Angioplasty at very nominal rates (with FDA approved stents).
The Orthopaedic centre has state-of-the-art equipment. Besides routine conventional orthopaedic surgery, the department also has facility for Knee, Hip & other Joints Replacement Surgeries with Arthroscopy. Hand surgeries and orthopaedic intervention for congenital anomalies are also being undertaken at this centre.
Neurology and Neurosurgery (Operation of Brain, Spinal Cord and ailments related to nerves including Microscopic Key Hole Surgeries) are also amongst our super-specialty services. Facility for Endoscopy and Minimal Invasive Surgeries is also available.
HH houses the only Eye Bank & Advance Eye Care Centre of Uttarakhand. Special facility of Laser is an added advantage.
Besides advanced diagnostic and therapeutic services for Ear, Nose, Throat (ENT), Cochlear Implants with advance Hearing Aid Centre too are available. Facility for complete diagnosis and treatment of respiratory diseases under Pulmonary Medicine, are all in line with the best in the medical field.
The state's first successful Kidney Transplantation Centre, also provides facilities for Dialysis, plasmapheresis and vascular access related procedures for kidney.
Our diagnostic facilities include 1.5 tesla MRI, 64 slice CT Scan, Ultra Sound, Colour Doppler, Mammography and Digital X-Ray. NABL Accredited Reference Lab provides most advanced Diagnostic facilities. Blood Bank with ID-NAT tested blood components is sufficient to meet the needs of all patients in this hospital.
Free of cost Normal Deliveries in General ward and Free Cleft Lip and Cleft Palate surgeries under Smile Train Project have been a great relief to the needy. 24 hours Emergency Services and treatment facilities for all types of card holders like E.C.H.S, C.G.H.S, M.S.B.Y, E.S.I, Mediclaim and cashless treatment facility, under all major TPAs, function conveniently.
Above all, medicines of standard pharma companies on discounted rates are available from Kalptaru Pharmacy in the hospital.
The hospital also organizes free medical and health camps.  So far over 250 such camps have been organized in the hinterlands of Uttarakhand during the preceding one year. Active participation in public health education and all the national health programmes is being undertaken under the aegis of Department of Community Medicine.