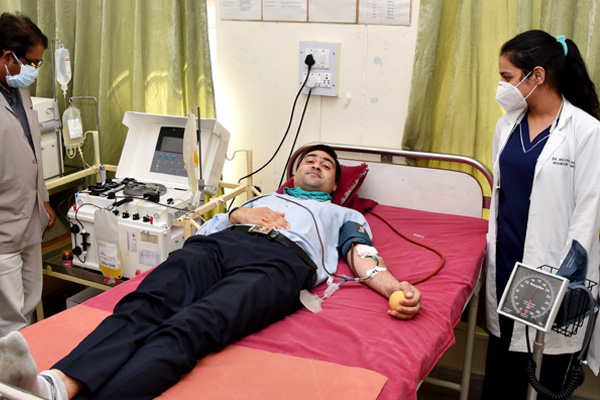 Overview of the Overview of the Department of Immunohematology and Blood Transfusion
The Department of Immunohematology and Blood Transfusion (Blood Centre) was started in the year 1999 and supports the Himalayan hospital, a 1200 bedded tertiary care referral centre as well as the nearby hospitals in and around the Dehradun district of Uttarakhand. The main goal of the department is to promote the rational use of blood components and achieve safer blood transfusion practices by adopting state-of-the-art technologies. The annual blood collected at our facility almost ranges from 11,000 to 12,000 units with more than 80% voluntary donations. Our blood centre has a good voluntary donor base from several NGOs and nearby industries (with an average of 70 to 80 camps conducted annually). The greater participation of female voluntary blood donors (nearly 7 to 8%) is a good reflector of the efficacious promotional activities of the department regarding the importance of voluntary blood donation. Our blood transfusion services are integrated with the healthcare system of the hospital and provide nearly 20,000 to 25,000 units of blood components annually.
The use of blood is optimized by 100% component separation and a good inventory of blood products are ensured through regularly conducted donor motivational as well as recruitment drives. The clinical services of our department include patient blood management, donor apheresis, convalescent plasma harvest for use in COVID-19 patients, therapeutic plasma exchange, therapeutic phlebotomy, autologous platelet-rich plasma, transfusion support with special blood components such as leucodepleted, irradiated, saline-washed, minor phenotype matched and reconstituted whole blood for use in neonatal exchange transfusions. The hematopoietic stem cell harvest from peripheral blood is performed using apheresis where the transfusion medicine specialist plays an active role in the bone marrow transplantation team of the hospital. A range of immuno-haematological tests is standardized in the department, such as antibody screening and identification using panel cells, elution and adsorption studies. Additionally, the laboratory work-up of the patients having allo and autoimmune hemolytic anaemia, hemolytic disease of newborn and antenatal serology is done routinely. Our serology laboratory houses three fully automated testing platforms to perform blood grouping, antibody screening, pre-transfusion testing and the screening of transfusion- transmissible infections by the 4th generation ELISA and the individual donor nucleic acid amplification technique (ID-NAT). Our facility is in fact the first blood centre in Uttarakhand to have started providing ID-NAT tested blood to the recipients. For such endeavours, the NACO-assisted regional training centre award was bestowed upon us, to train the medical officers, nurses, technicians and blood donor counsellors from other blood centres in Uttarakhand.
The blood centre data is managed using dedicated software. Our facility also participates in the National hemovigilance program of India with prompt reporting of both transfusion reactions and donor-related adverse events. As a part of quality assurance in blood banking, our facility actively participates in the blood bank external quality assessment scheme (EQAS). Additionally, we also conduct regular educational programs for MBBS, MD students and graduates from other disciplines such as medical laboratory technology. The core curriculum while training them involves both laboratory-based and clinical aspects of transfusion medicine.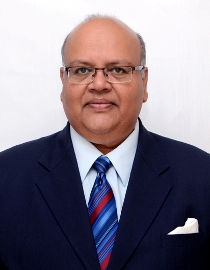 Dr. DUSHYANT SINGH GAUR
Qualifications : MBBS, MD
Designation : Professor & Director of laboratory Services
Teaching Experience : 28 years
Publications : 49
Special Interest : Cytopathology, Pulmonology, Blood Banking & Andrology
Awards : Best Teacher Award - 2012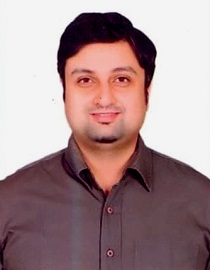 Dr. MANISH RATURI
Qualifications : MBBS, MD Immunohematology and Blood Transfusion
Designation : Associate Professor
Teaching Experience : 6.0 Years
Publications : 35 ( PubMed Indexed)
Special Interest  : Hematopoietic Stem cell harvest & transplantation, Immunohematology & Apheresis Medicine
Awards : Young Researcher Award - 2020 from the Institute of Scholars, Bengaluru, India for original research paper
International Travel Grant for Young Scientists by Council of Scientific and Industrial Research, Govt of India–Platelets Symposium, Ramat Gan, Israel (2018)
International Travel Grant for Non-ICMR Scientist – International Society of Blood Transfusion Conference, Toronto Canada (2018)
Early Career Research Award & Research Grant from the Science & Engineering Research Board, Govt. of India, New Delhi (2017)
International Travel Grant for Young Scientists by Science & Engineering Research Board, Govt. of India –Glasgow, United Kingdom (2017)
Research Grant: STS- Indian Council of Medical Research, New Delhi (2016)
Indian Society of Transfusion Medicine quiz - secured 2nd position in National level quiz held in Transmedcon at Jaipur, India (2012)
Gold medal in MBBS (2005)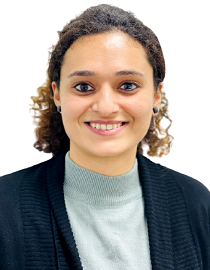 Dr YASHASWI DHIMAN
Qualifications : MBBS, MD (Transfusion Medicine) PGIMER, Chandigarh, India
Designation : Assistant Professor
Teaching Experience : 3.5 years
Publications : 9 ( PubMed Indexed)
Special Interest  : Hemovigilance, Patient Blood Management (PBM), Overall Management of blood centre with quality assurance in transfusion services, Immunohematology workups and therapeutic apheresis
Awards : Co-Chair of PBM subgroup, Working Party of Clinical Transfusion, International Society of Blood Transfusion, 2021.
Special invitee for a talk on "COVID-19 pandemic response to challenges by BTS in India - A review article" in the First TM Kerala Virtual Meet, India themed: "Impact of COVID -19 on BTS: Strategies and Innovations", 2020.