SRHU Foundation Day, Himotsav 2022
SRHU marked its anniversay this year, with a grand four day celebrations replete with festivities, including a Cultural Evening that incorporated the annual Diploma and Academic function; Ram Leela; and Presentation by folk singer Shri Narendra Singh Negi and Prince Group.
Former Union Human Resource Development Minister and MP, Dr. Ramesh Pokhriyal Nishank; and Vice Chancellor, Dr. Vijay Dhasmana, jointly inaugurated the event by lighting the ceremonial lamp.
'Himotsav- 2022' began on the 09th of March with a colourful, captivating cultural performance by the students. Thereafter 38 Meritorious students were conferred with the Literary and Sports Award.
The cultural programme included presentations in Garhwali, Punjabi, Rajasthani, Gujarati, Bengali & Himachali, performed by both the students & the staff members.
The function commenced with the presentation of Garhwali Jagar by Akash Group from Community Medicine. Priyanka Group from Pharmacy and Laxmi Group from Bioscience presented a memorable Garhwali Dance.
The first day celebrations concluded with a stunning dance performance by Aarushi Group from Paramedical Sciences. Gaurav & Abhilasha of B.Sc. nursing for a solo song and Prince Dubey of Yoga Science for an outstanding flute performance were facilitated with Vice Chancellor Appreciation award
The Solo Song and Dance participants were Tripti Kapoor, Manya Saxena, Kuldeep, Vijay, Anil Jaiswal, Manish, Shruti, Abhilasha and Gaurav.
All the presentations were held under the leadership of Dr. Jyoti Dwivedi.
Dr. Vijendra Chauhan, Dr. Prakash Keshavaya, Dr. Sunil Saini, Dr. SL Jethani, Dr. Renu Dhasmana, Registrar Dr. Sushila Sharma, students & staff were present on the occasion.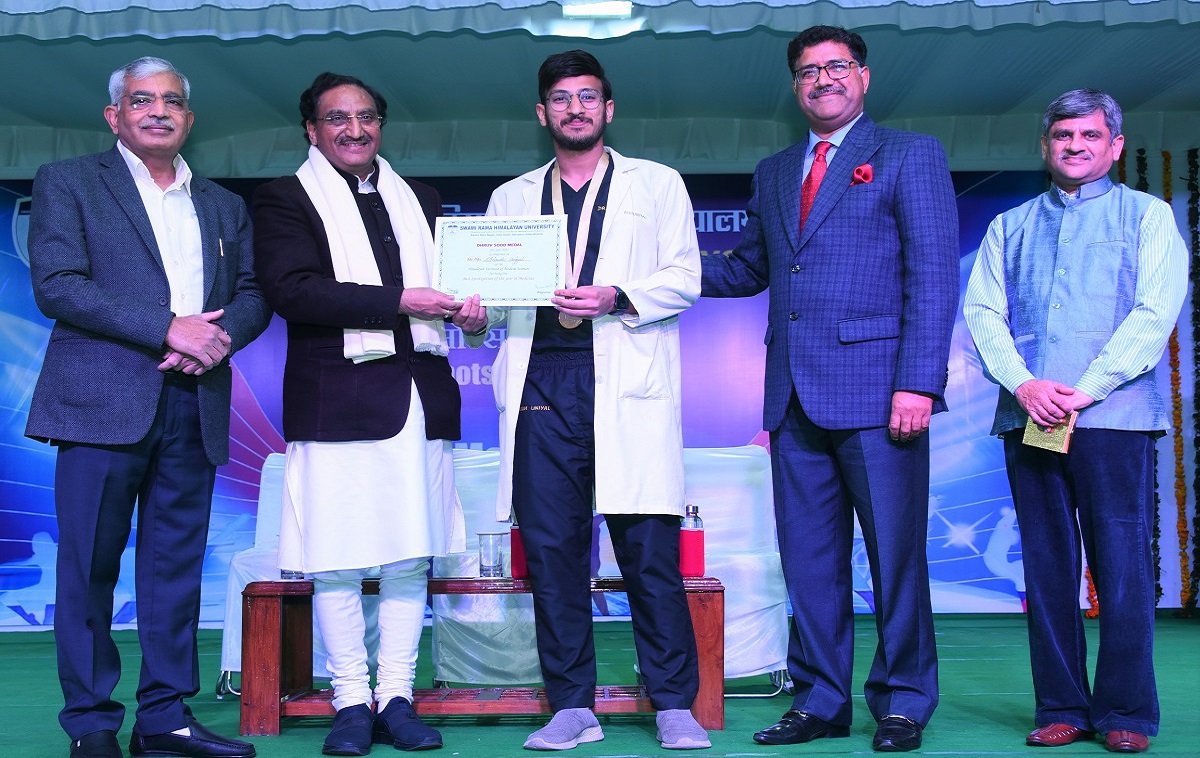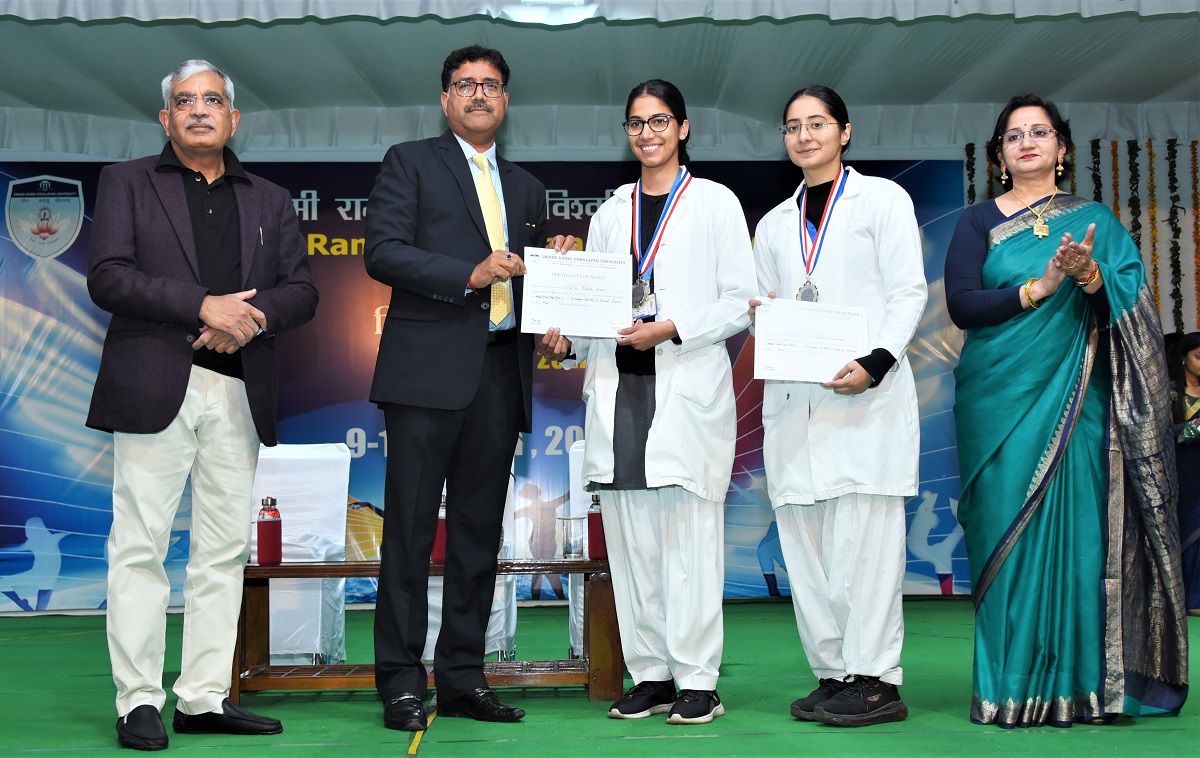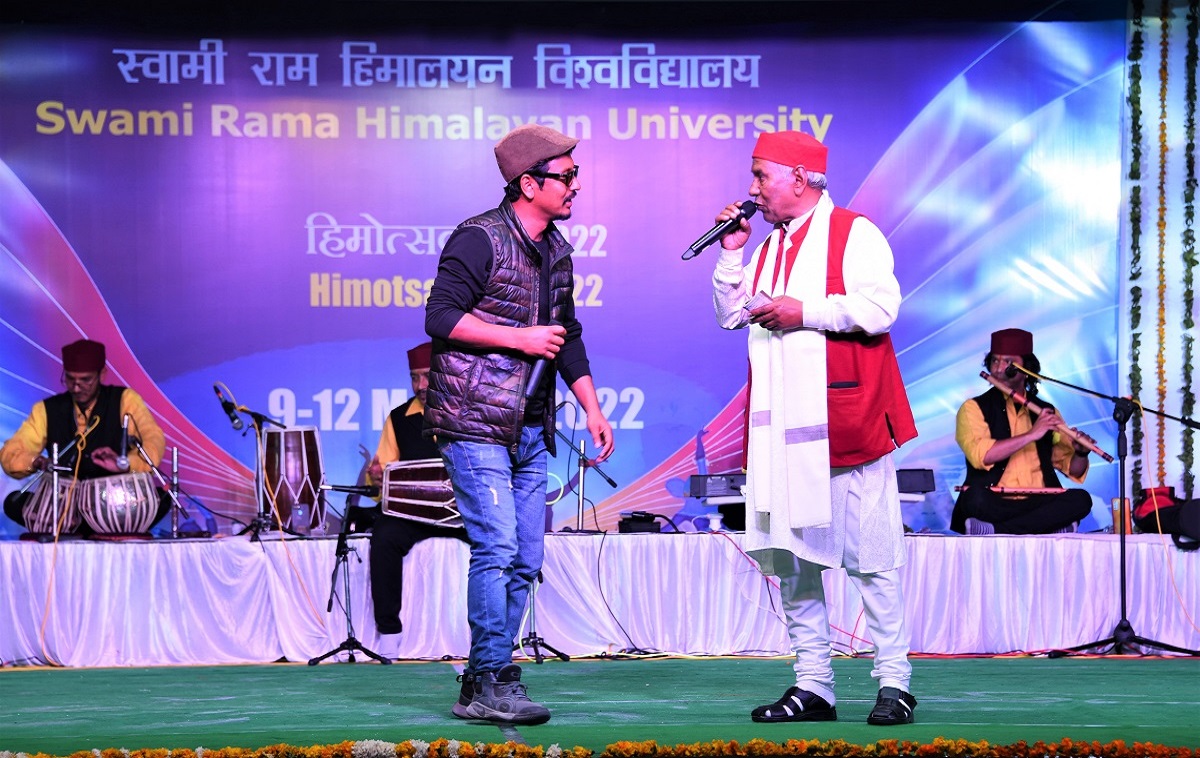 Students honored with Literary and Sports Awards
Himalayan Institute of Medical Sciences was adjudged Best College in Inter School Sports.
Anirudh Uniyal and Simranjit Kaur, MBBS students, were adjudged Best Athletes.
Apart from sports awards, about 45 students were honored in the categories of Poetry, Essay, Writing, Mehndi, Sketching, Painting, Card Making, Rangoli and Photography.
Dr. Sheela Naseem, Aishwarya Rana, Bhumika, Prabha Pal, Hrithik Arora, Priya Rawat, Keshav Agarwal, Debjit Kumar, Ayushi Tyagi, Nikita Tamta, Anjali Kala, Anshika Rawat, Aakriti, Nandani Kukreti, Lumbini Joshi, Patrika Garg, Avika Garg, Devanshi Das, Ananya, Neha Rani, Vaishali Patwal, Aryaman Mishra, Isha Goyal, Aradhana Lekhvar, Shambhvi Sharma, Sanskriti Bhatt, Akash, Sneha Rajput, Amanda, Suman Thapliyal, Laxmi Ramola, Khushbu Joshi, Akash, Rita, Pallavi, Aarti Maurya, Srishti Agarwal, Anamika Negi, Aryavind Beniwal, Kanika Butola, Sanyam Nautiyal, Rakesh Kumar, Grace Madonna Singh, Anita Pandey were present on the occasion.
Swami Ram Himalayan University is one of the few institutes not only in the country, but in the entire world, where doctors, nurses, engineers and students of management, yoga science, bio science are acquiring education under one roof.
SRHU has taken a consederable step forward by enabling youth in the hills, by connecting them with employable courses such as home-stays. Apart from education and health facilities, Swami Ram Himalayan University is also working in the field of self-employment. To connect the youth of the state with self-employment, various courses, such as the one relating to entrepreneurship and home-stays are being conducted.
Organizing Committee Members: An Organizing Committee was formed to make the event a success. Chairperson Dr. Meena Harsh and the members included Dr. Jyoti Dwivedi, Dr. Anuradha Kusum, Dr. Amit, K. Shaileja, Dr. Vivek Kumar, Dr. Lipi Bhatt, Priya JP, Sonam Bhadauria, Ekta Rao, Neelam Thapa, Sandhya Negi, Abhishek Saxena, Geeta Singh, Dr. Anvita, Dr. Seema Madhok and faculties and students of Himalayan School of Management Studies, Himalayan School of Science & Technology, Himalayan School of Boi Sciences , Himalayan School of Yoga Science, Himalayan College of Nursing , Himalayan Institute of Medical Sciences , Paramedical & Hospital Administration.
180 students were awarded Academic Awards and Diplomas

Garhwali, Rajasthani, Bengali, Punjabi, Marathi dances made the event memorable
Conceptualised and coreographed by the students and faculty members, the performances on the second day  of Himotsav at SRHU provided a glimpse of Indian culture and its rich diversity. The vibrant colors of Garhwali, Punjabi, Bengali, South Indian culture were the highlights of the show.
On the second day the celebrations started with Radha-Krishna kirtana by ISKCON Rishikesh. This was followed by the presentation by Ambika Group of BPT.  Sakshi Group of BSc performed a Garhwali dance, providing a glimpse of its rich heritage. For their Punjabi dance presentation, Sadhna Group earned a lot of praise from the audience. The event came to a closure with a powerful performance of Qawwali by Nursing and BPT students. Manshi Gururani, Sanyam Chhabra, Surbhi Bijalvan, Lumbini Joshi, Mariam Rizvi, Anshika Rawat, Khushi Joshi and Alka, along with Shivam Dhoundiyal enraptured the audience with their electric performance.
Solo Songs and Dances were put up by Manoj Kothari, Ayesha, Anmol, Akshita, Srishti, Abhyudaya, Kritika and Dr. Piyush Kumar.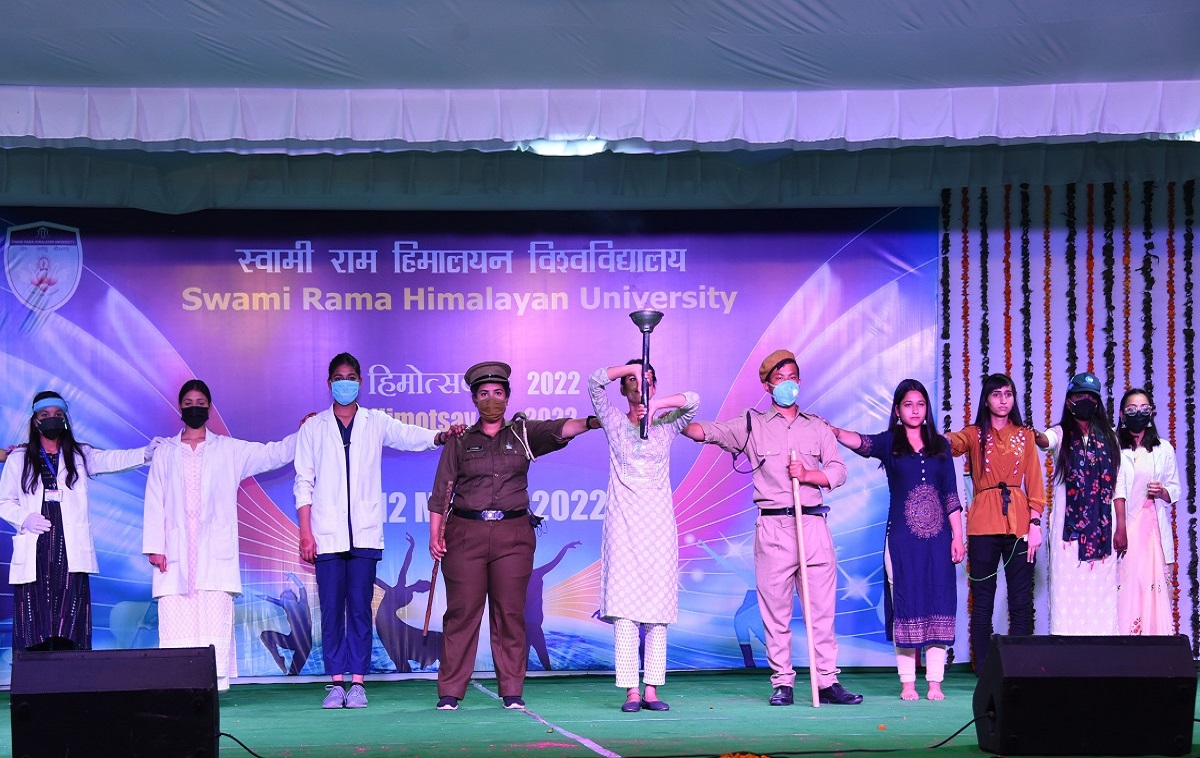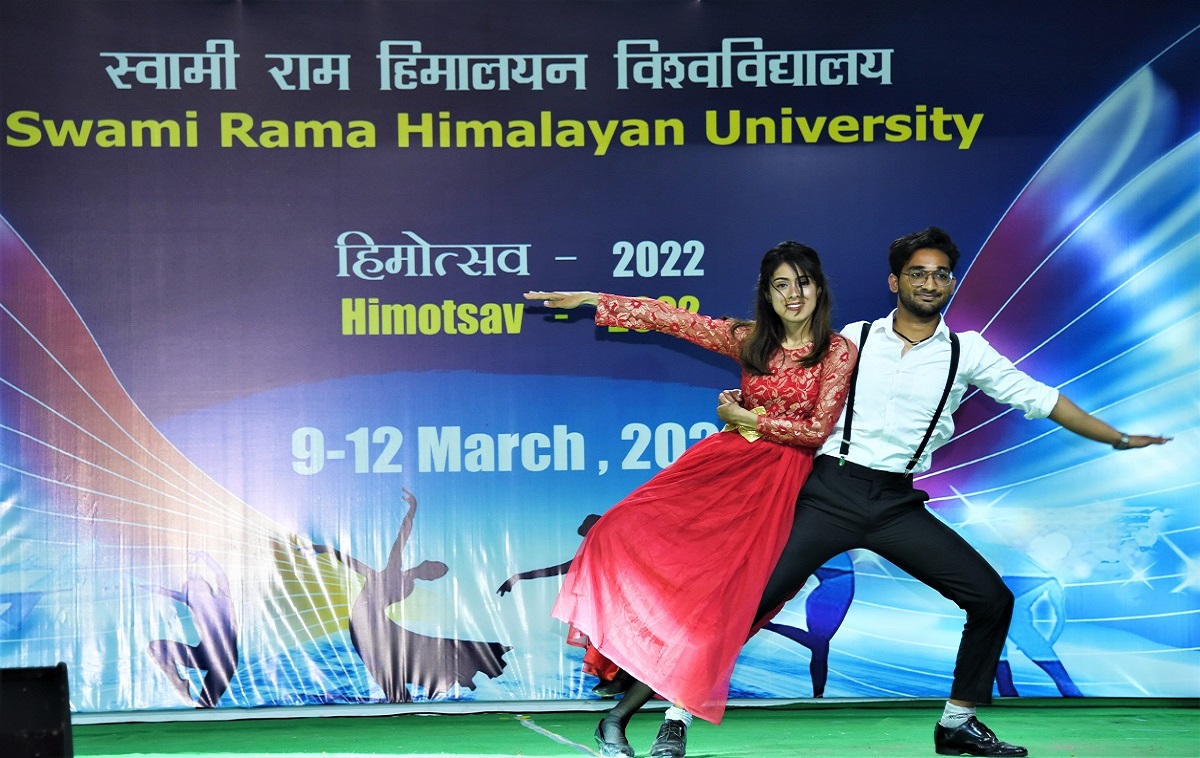 90 students honored with Academic Award on the second day
 Vice Chancellor Dr. Vijay Dhasmana, Pro Vice Chancellor Dr. Vijendra Chauhan, and Registrar Dr. Sushila Sharma honored 95 students with academic awards. The Best Thesis Award was bagged by Dr. Anmol, Dr. Soumya Bindra and Dr. Aarushi Gupta. Apart from this, Anandita Walia, Vrinda, Shivangi, Ojaswi Mittal, Pratishtha Sharma, Neemish Jindal, Swapnil Tiwari, Priyanka Chaudhary, akarshit Bhatt were honored with special medals in different categories.
Stellar Shri Ram Leela presentation was major highlight of  'Himotsav-2022'
On the third day the highlight at 'Himotsav-2022' was the remarkable Shri Ram Leela performance.
The exceptional team from 'Shri Ram Bhartiya Kala Kendra' presented their famous dance drama 'Shri Ram' under the direction of Shobha Deepak Singh, on the final day of SRHU Foundation Day celebrations. This special show of about 3 hours had 28 scenes. The rivetting show enraptured the audience and received tremendous applause.
The audience witnessed great drama & some magnificent stage lighting with a voice over and classical ragas along with Awadhi Chaupai.
Garima Kapoor conducted the program.
Folk singer Narendra Singh Negi mesmerised with his lilting performance

India's Got Talent winner Prince Dance Group's performance was the center of attraction
The evening became memorable with the mesmerising folk songs presented by Narendra Singh Negi and his team. Another major highlight was India's Got Talent winner, Prince Dance Group's performance of the evening.
Earlier the event was inaugurated by Vice Chancellor Dr. Vijay Dhasmana and Pro Vice Chancellor Dr. Vijendra Chauhan by lighting the ceremonial lamp, in front of the portrait of the founder Dr. Swami Ram. Himotsav 22 started with the worship of Maa Saraswati by folk singer Narendra Singh Negi. Various colourful cultural dances of Uttarakhand and some memorable folk songs made the evening special.The audience applauded and praised the performances energetically.
The function concluded with the song 'Hori Aige...'.
The function was conducted by Ganesh Khughshal 'Gani & Shivam Dhoundiyal.