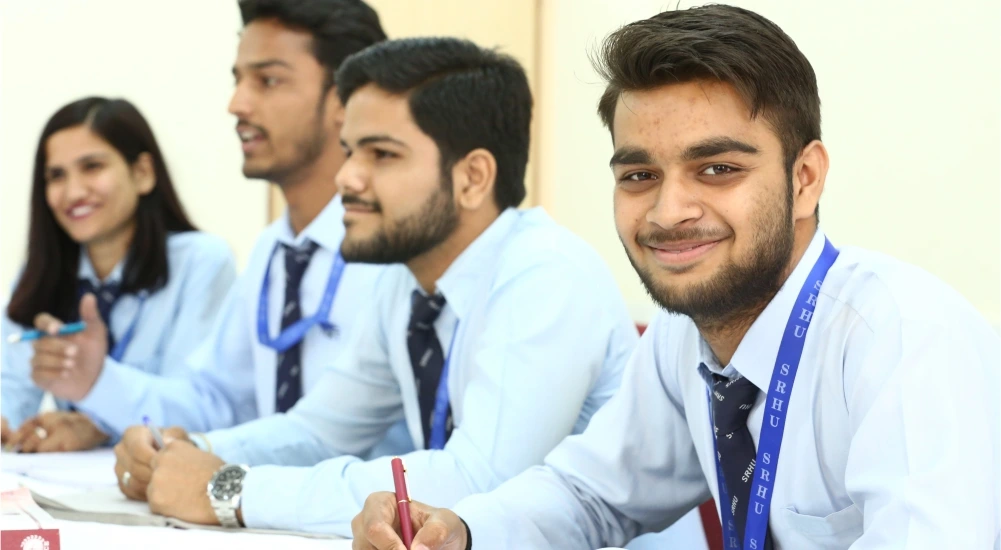 It starts after the 10th standard in an Indian Education System when a student has to pick a stream that further decides their career and in most cases, students who score above the class average are forced by the society to choose PCM and then the most common assumption for students who choose PCM in 12th class is to become an engineer. In most cases, we fail to understand what the child wants to do based on their interest and chase the next big thing to help the child make a good career with great returns.
There are indeed hundreds of options available after PCM, and there is growing competition among engineering students to excel in their respective careers. From 10th to all the way up to finding good colleges, and job opportunities in good salary brackets, everything should depend on a logical approach and methodology so that a student is set for long-term success.
In this blog, we will address all the steps and a logical way every student pursuing PCM should take to understand and find the best career options after 12 PCM for them.
Engineering Courses and Trends

Let's first start by looking at some trends and future forecasts for the engineering and computer science courses.
India is quickly becoming one of the most tech-savvy nations in Asia, and hence there are most job opportunities at a good salary range. Therefore as per recent statistics from India, 935 thousand students (highest across all engineering streams) were enrolled in Computer Science Engineering disciplines
Computer science is the key to the future of our economy and society. A lot can happen within 10 years: from medical devices that help people live healthier lives, driverless cars taking over roads soon enough to major AI breakthroughs like speech recognition, machine learning, digital manufacturing, robotics, quantum, and more - some serious job profiles are awaited in this highly-demanded market.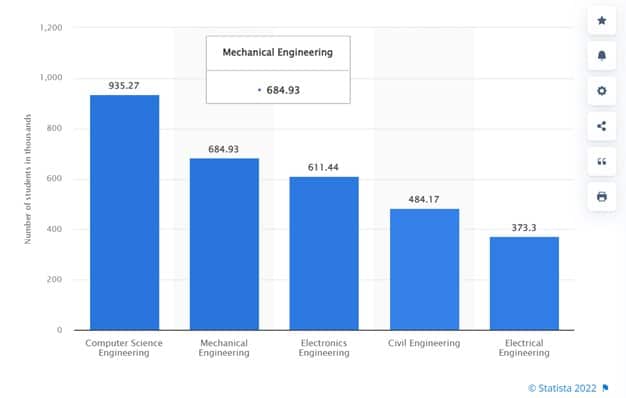 Computer science is the key to the future of our economy and society. A lot can happen within 10 years: from medical devices that help people live healthier lives, driverless cars taking over roads soon enough to major AI breakthroughs like speech recognition, machine learning, digital manufacturing, robotics, quantum, and more - some serious job profiles are awaited in this highly-demanded market.
Job profiles like Deep learning engineer, Algorithm engineer, Machine learning engineer, Data scientist, etc., are the best career options that also make CS one of the most successful engineering courses after 12th.
Computer scientists in India earn a salary that ranges from ₹17.3 lakhs to ₹51 lakhs, with an average annual salary of ₹ 35.4 lakhs. The report is based on data collected via 329 salaries obtained by applying Computer Scientist skills for this role. Check out more about computer science courses and best engineering colleges in Dehradun here.
But it is not fair for a student to pick a stream because it is trending and offers great salary opportunities; instead, one should understand their true potential and explore opportunities according to their interests as one can build a successful career in any field if they have the passion for it.
"Choose a job you love and you will never have to work a day in your life."
So now the next question is how to find the process of finding your strengths and interest. The below section talks about a proven and tested approach for understanding your personality, strengths and interests.

Correct Career Counselling after 12th PCM
Engineering programs are not for everyone. 50% of engineering majors change or drop out before graduation due misaligned interests and prior understanding of what Engineering includes. The foundation of a good career after PCM starts when one understands their own strengths and interests and aligns the future college degree programs with the same.
Even if you have an engineer's mind, you have to zero down on what stream matches your kind of interest and that where a career counsellor comes in handy. Career guidance not only after 12th standard but as early as 10th class can be very beneficial for setting the students for a long-term success. But due to society pressure and lack of awareness about other career options and career opportunities, parents often tend to make the decision for their children about career options they should choose after 12th PCM.
They assume that engineering is the only best option if the marks are good. We agree with this statement, but it's equally important to choose a stream in engineering that a student enjoys pursuing as a career. For example, engineers who choose to specialize in computer science find themselves at the crossroads of technology and coding.
Career counselling is a great way to get unbiased feedback on a student's interests and skills, and it can also help with what branch of engineering you might be best suited for. A psychometric assessment usually tells the professional about everything he or she needs in order to select an appropriate field based on those results. The Engineering Branch Selector is a psychometric assessment that helps determine an individual's potential and area of interest. The four fundamental aptitude abilities required by every engineer are mechanical, spatial (including closure), logical & mathematics skill sets tested through this tool which maps out your interests to find what field you would be best suited for!
Although there are other tools that also help in identifying the ideal engineering field for the student.
Further, career counsellors help in elaborating on colleges, universities, courses and mentally prepare you to be ready for the engineering stream you choose. They conduct personality tests, self-analysis, and exciting sessions to understand a student's mindset.
It is worth giving a shot because peer pressure and society's expectations for an engineering student often creates difficult situations, so it is always good to motivate the student to pursue their favorite stream and seek help.

Role of Short Courses and Internship Opportunities
In addition to getting advice and help from a reliable and reputed career counsellor, it is essential to test the water before jumping in the pool to avoid drowning. That is where a student planning to take engineering or any career for that matter should do some online short courses or internships during their summer and winter breaks.
These short courses and internships are immensely helpful in introducing the field and also in setting the right expectations about the core subjects, specializations, explore your interests in the career field of your interest before you take the leap and commit to a certain program or college major.
Also, these short winter and summer internships can help you gain insights into how a professional work environment looks like and you can also network with experts in the field and take inspiration from their journey.
But getting internships without any work experience is not easy therefore, one can join a club or volunteer for work in the relevant field.
By joining a club, a student can improve his/her chances of getting an internship as its a great way to show your dedications and passion in the field.

Explore Options Before Narrowing on One
"It is a good idea to work towards the best, but a better idea is to also be prepared for the worst"
Once you have done all the above steps then the last one to keep in mind is that it is always good to have a few options and not get stuck with just one. So, if your interest is most aligned with Computer Science and Engineering, then it will be a good idea to narrow down on both the government and private engineering colleges in a preferred location of your choice as well as keep another option other the B. Tech CSE open for yourself. There are courses in BCA and similar fields offered by most of the engineering schools around the nations. This way if you don't make it to your dream course or college, you will still have a fall-back option. Ensure that you just don't get stuck with one option. Instead, explore a few and shortlist at least two best engineering career options that align with your interests and future trends.
Engineering is an expensive course, and a lot of time, energy, and money goes into pursuing this field and hence following the above steps will help a student maximize the chances of success and reduce the chances of failure or dropouts.