What is Biotechnology and Future Scope in India?
---
Biotechnology is a combination of two words bio an acronym of biology, which relates to the study of life and living organisms and technology meaning the application of scientific knowledge to improve, enhance or change the human environment.
Biotechnology is therefore the application of scientific knowledge on biology, biological systems or living organism to create products at industrial and scientific levels that solve or improve our lives.
As an industry, Biotechnology is not new and has existed as a part of human life from the beginning of the civilization. From use of yeast for making bread to use of fermentation techniques to preserve food, biotechnology at its simplified state was practiced from the time domestication of animals and human settlement started.
But industrialization, climate change, growing pollution levels, increasing population size and healthcare needs are some of the key factors that significantly accelerated growth in the biotechnology space over the last few decades and most recently the impact of COVID-19 has further propelled innovation in this space.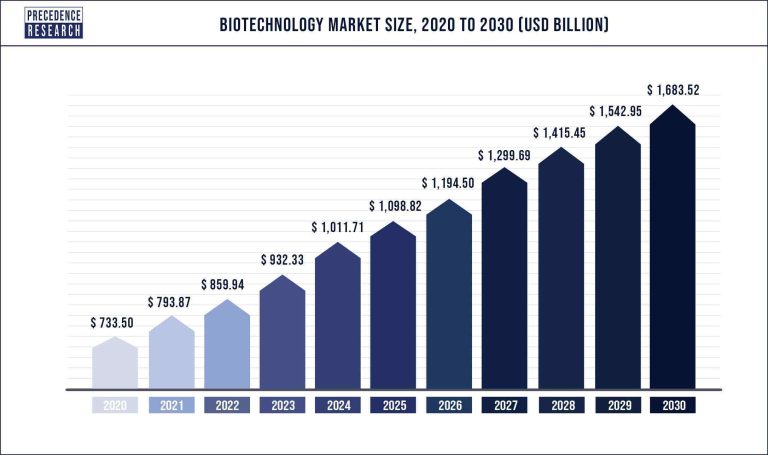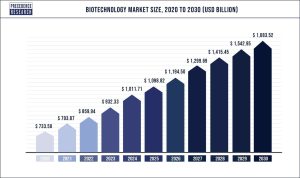 Today the global biotechnology industry is growing at a compound annual growth rate (CAGR) of 8.7% and is expected to reach USD 1,683.52 billion by 2030. India is ranked as the 3rd largest and 12th largest biotechnology destination in the Asia pacific and globally respectively. In the Indian biotechnology space, the demand for skilled biotechnologists is at an all-time high in sectors like food, environmental, pharmaceutical and agriculture. So, students after completing the biotechnology degree can work in a variety of industries listed above in very exciting and contemporary job roles that offer high salaries.
But there is not just one route for students to enter the field of biotechnology and students after 12th PCB need to make an informed decision about the best biotechnology course after 12th.
The next section of this blog lists all the biotechnology courses available to students after 12th as well as the key difference between these courses so that students can understand and make an informed decision about their future career in the field of biotechnology.
Popular Biotechnology Courses After 12th and Differences
---
Pursuing a course in biotechnology is one of the many choices students with PCB have after 12th class but within biotechnology the most confusion students face is between the two most popular courses B.Sc. Biotechnology and B.Tech Biotechnology.
While both, B. Tech in Biotechnology and B.Sc. in Biotechnology, are great programs for students passionate about biology but there are quite a few differences between the two options.
The first and the most important difference which is also a part of the eligibility for B. Tech in Biotechnology course is the requirement of math subject in addition to the three core subjects – Physics, Chemistry and Biology in 12th class. Whereas students with just Physics, Chemistry and Biology in 12th can apply for B.Sc. and later pursue M.Sc. in biotechnology, MBA, or Ph.D. in the specialization of their choice.
Other important difference between the two courses is the fact that a B.Sc. Biotechnology course is a three-year course that is primarily focused on Biology whereas a B. Tech. in Biotechnology is a four-year course that introduces students to the engineering aspects and hence leverages applications of physics and math concepts.
The core subjects studied in the B.Sc. biotechnology program include study of cellular and biomolecular processes whereas a B. Tech course focuses more on analytical techniques, bioinformatics and prepares students for industry specific skills.
Another related question based on the above focus areas and core subjects that students ask between these two courses is about the difficulty level. Is B. Tech. tougher than B.Sc. In biotechnology?
The simple answer to this popular questions is that it all depends on your interest, readiness to learn as well as your career goals. If a student is very interested in building a career in the research and development or academics aspects then a B.Sc. in biotechnology course is a much better choice. However, if one loves math and is more interested in the industrial applications of the biotechnology with a future goal of working with MNCs then a B. Tech course is more suitable.
Who Earns More B.Tech. or B.Sc. Biotechnology Graduates?
---
Job role available for B.Sc. Biotechnology graduates include Research Fellowship, Clinical Research Associate/Manager, Biostatistician, Food Scientists and Technologists, Microbiologist, Biochemist etc. and the typical salary of B.Sc. Biotechnology graduates ranges from 2,00,000 - 4,50,000 PA as per data from Naukri.com.
B.Tech. Biotechnology graduates can apply for jobs in chemical and textile industries, agricultural sectors, pharmaceutical firms with salary ranging from INR 5, 00,000 -8, 00,000 PA as per data from College Dunia.
But it is important to not be disillusioned with the difference in the salary numbers and conclude that one course is better than the other. There are many other key factors one should consider before making a final choice such as personal interest, future goals, financial investment/ fee of the course etc.
Fee B.Tech. Biotechnology vs. B.Sc. Biotechnology Courses?
---
In India the fee of a B. Tech. Biotechnology course can range anywhere from INR. 1,00,000 to Rs. 10 lakhs for the total duration whereas a B. Sc. Biotechnology course is anywhere from INR 50,000 to 3,00,000 for the total course depending on whether you choose a government or a private college to pursue your degree.
Also, sometimes we assume that higher salary equals to successful career, but one needs to really understand and align their interest/passion with the job to build a successful career. In a survey done by Harvard business review on what really motivates people at work, 9 out of 10 people were willing to earn less money to do more-meaningful work that is aligned with their strengths and interests.
Conclusion
---
So, both B.Sc. and B.Tech. in Biotechnology are great courses for students with PCB and both offer promising future career opportunities. Students and parents need to make an informed decision supported by proper research, and data before making the final decision about the biotechnology course.
For any queries related to the subjects, opportunities or placement record of biotechnology graduates at Himalayan School of Bio Sciences, please connect with the admission counsellor at +91-135-2471199, 2471135 or email your question at admissions@srhu.edu.in