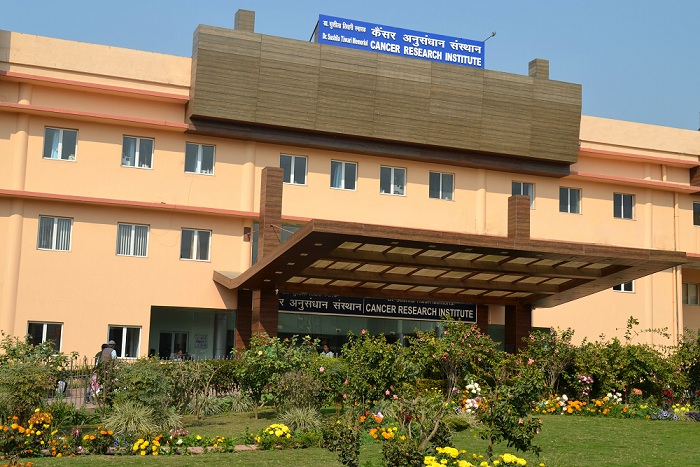 Cancer Research Institute (CRI), a constituent unit of SRHU and an associate hospital of HIMS, is one of the premier cancer treatment centers in the state of Uttarakhand that provides world class oncological treatment and research facilities, all under one roof.
Cancer care started way back in 1992 at HIHT / SRHU campus as a small clinic serving the rural population and subsequently as an oncology unit in the medical college & hospital. Foundation of a comprehensive cancer center was laid in April 2006 on the same campus.  A separate building covering floor area of 1,81,000 sq. ft. has been developed housing comprehensive cancer care facilities. The institute was inaugurated by the Honorable Minister, MOHFW  (Ministry of Health & Family Welfare), of the country, Shri JP Nadda on 12th Nov 2016.
Multidisciplinary clinical care, cancer education and research are being organized by dedicated faculty and staff specially recruited for this center and adjunct faculty from other institutions within the University. The Institute is rendering services to all strata of society, including the under-privileged and collaborating with the state government to make services affordable. 
Cancer Research Institute has gained the status of foremost referral center for cancer care in this region and is on its path to grow as the leading Cancer Institution in entire Northern India. The Uttarakhand state Government has already recommended this Institution for recognition & grant by MOHFW as Tertiary Cancer Care Center.
To fulfil one of the strategic goals of the Swami Rama Himalayan University "to engage the world from the Himalaya hillock", recently Cancer Research Institute, Himalayan Institute of Medical Sciences at the Swami Rama Himalayan University in collaboration with leading National and International cancer institutions has established a Global Consortium for Breast Cancer in Young Women under the age of 40 (GCBCYW) with emphasis on translational breast cancer research, academic and training programs, and promoting awareness among the targeted age group of women.
Facilities and services available at CRI are at par with best Cancer Institutions in India, such as -
262 bedded facility including OT and ICU complex with five operation rooms ,16 Post-operative beds, 10 bedded ICU, 4 bedded Bone Marrow Transplant unit, and General & special wards for all social categories of patients.

Well-equipped Radiotherapy Department with two linear accelerators with 3D CRT and IMRT facilities, Brachytherapy CT Simulator, TPS etc.  Daily, 100-120 patients receive radiotherapy in this department; during the last one year, about 900 new cancer patients received radiotherapy, here.

Multidisciplinary organ specific OPD inclusive of Medical, Radiation and Surgical Oncology, Multidisciplinary organ TAM for Gynecology, Head & Neck, Breast, Gastrointestinal oncology, Neuro oncology etc.

The Institute pioneered the Bone Marrow transplant program in Uttarakhand and has been successfully conducting such procedures. CRI has developed special unit for blood cancer and related disorders, which does not exist in this region.

Nuclear Medicine Department is equipped with Gamma camera and provides radioiodine therapy.

Dedicated Dental Services for cancer care. 

Day Care Chemotherapy services.

Tissue bank, Flow cytology Laboratory, Frozen Section Facility.

Community outreach program in collaboration with ICMR.

Cancer Registry, in collaboration with NICPR - ICMR

Participating member of National Cancer Grid, Govt of India.

Institute provides Palliative and Supportive oncology services that includes community palliative care center in Dehradun known as Rotary Himalayan Palliative Cancer Care Centre.

CRI is supported by modern diagnostic radiology, laboratory and blood banking services.