"Interactive Physiology Quiz" For The Students, By The Students"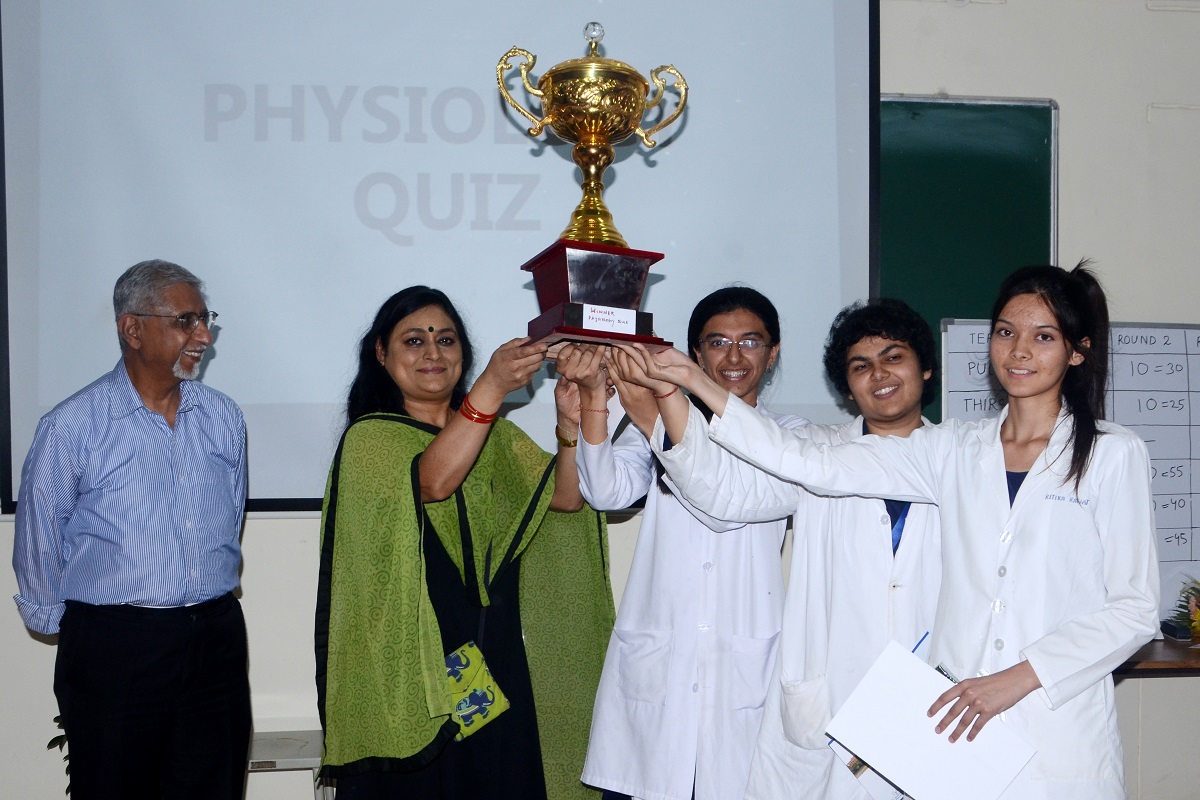 Teaching has always been strikingly fluid,hence department of Physiology for the very first time organized a groundbreaking quiz on matrix of "clinically interactive physiology" on 29 May 2019 in LT1 of the HIMS building. Organized by the students for the students added a glimmer in the department academic events and received unprecedented success.
15 dedicated student organizers toiled hard from the date of announcement for the quiz and were involved in meticulous logistics and arrangements that include advertisement, formulating questions under supervision of teaching faculty to arranging for prizes and giving protocols to teams and accompanying teacher. The participants exceeded the number in enthusiasm hence the elimination round was incorporated to fish out the 6 best teams.
The quiz started with blessings of his holiness swami ram and the 6 teams [Thyroid, Barr bodies, Thirst,synapse, pulse, β blocker]were asked questions from all parts of physiology before a live audience. Progression of events from twisted MCQ, to head rocking reason and assertion to rapid fire round made the event more interesting and competition tougher. Expected winner team Thyroid was surprisingly low on score in initial events but soon blasted to lay their hands on the trophy.
 The presentation of the trophy to finalist and certificate to all team members from the distinguish guest Pro VC Dr. V Chauhan,Dr Prakash Keshvaiah, Dean Dr Mushtaq Ahmed, Dr Taruna Sharma and Dr S L Jethani and others fueled the morale of the students who are naive to organizing such events. Words of encouragement and appreciation from the dignitaries to the students and the department as a whole would lead to future adjustment in curriculum and teaching to compensate for monotonous academic scenario. The events thrill of the competition has also electrified the students to work for better grades.