B. Tech (Hons.) CSE
Artificial Intelligence & Machine Learning,
Data Science & Machine Learning, Cyber Security
Level - Undergraduate | Duration - 4 Years
The current IT industry is very dynamic. Its horizons are broadening day by day and newer avenues and opportunities are coming up very rapidly. As a result, the work culture in the industry has become more demanding and asks students to be quickly adaptable. To be employable in the industry a student is required to not just graduate from college with a degree but is expected to remain updated and skilled with trending practices. IT industry is in immediate need of engineering graduates who can quickly adapt to the world of this dynamic computing.  At the same time development practices within organizations are continuously being renewed to create and deliver software products with the highest possible efficiency.
In B.Tech in Computer Science & Engineering program, the students are offered courses in trending technologies like Artificial Intelligence & Machine Learning, Data Science, and DevOps. This enables students to understand the future of computer technology and develop the required industry-needed skills. Additionally, students are able to imbibe professional practices and be hands-on with real-world industry experience as they graduate from college.
Students get industry insights on newer technologies, right from the beginning of the course. Industry experts also deliver guest lectures and students gain hands-on experience through experiential learning. With these in-demand skills, computer science students can prepare themselves in advance and enhance their chances of high-paying jobs in the industry.
Our engineering school in Dehradun is offering B. Tech program in three different specializations:
AI & ML
Career Prospects
---
Machine Learning Engineer, Artificial Intelligence Engineer, Deep Learning Engineer, Software Engineer, Computer Network Architect, Natural Language Processing Engineer, etc.
Data Science & ML
Career Prospects
---
Business Intelligence Analyst, Data Mining Engineer, Data Architect, Data Scientist, Data Analyst, Data Engineer, Financial Modeler, Big Data Engineer, Database Administrators etc.
Cyber Security
Career Prospects
---
Cyber Security Architect, Information Security Lead, Cyber Security Engineer, Network Security Engineer, Technical Lead, Cyber Security Analyst, Network Security Engineer etc.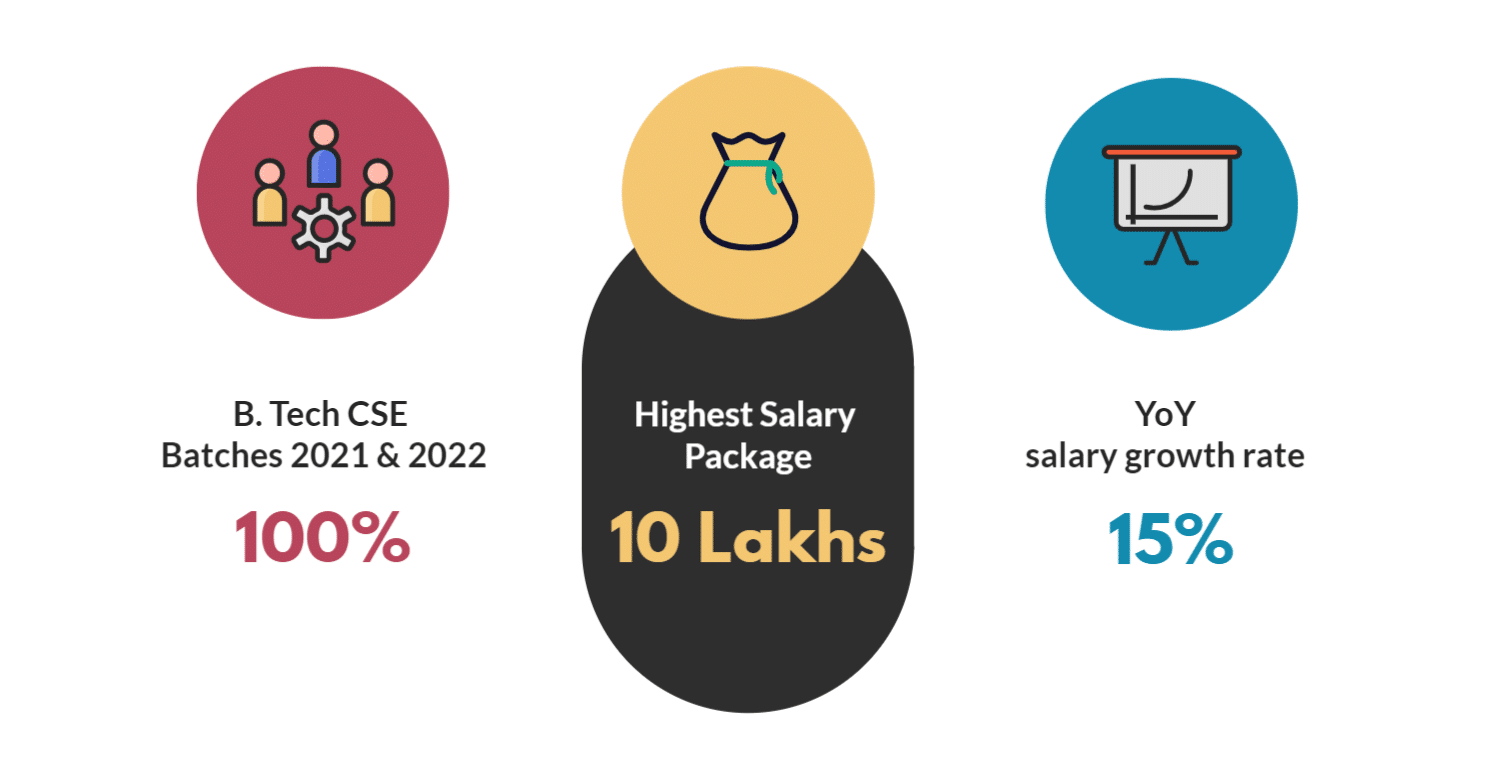 Some Of Our Top Recruiters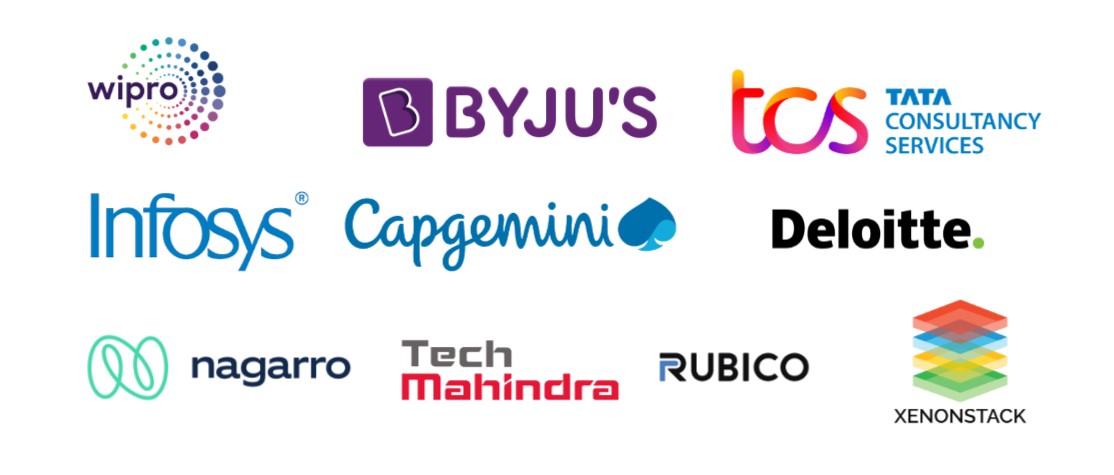 1. Artificial Intelligence & Machine Learning
---
In the current automated world, it is quite rare to find a sector or horizon untouched by AI. There are various applications of Artificial Intelligence, of which some of the important applications in various sectors include E-commerce, Education, Lifestyle, Navigation, Robotics, Fraud Prevention, Voice Assistants, Personalized Learning, Human Resources, Healthcare, Agriculture, Gaming, Automobiles, Social Media, Marketing, Chatbots, Finance, etc.
A student pursuing B.Tech in Artificial Intelligence and Machine Learning exposes himself to the variety of applications that can be built using techniques covered under this program. The degree will build strong problem-solving and analytical skills to help create solutions for different business applications. Pursuing this field will enable a student to prepare in advance for highly favorable jobs which are only bound to increase with time.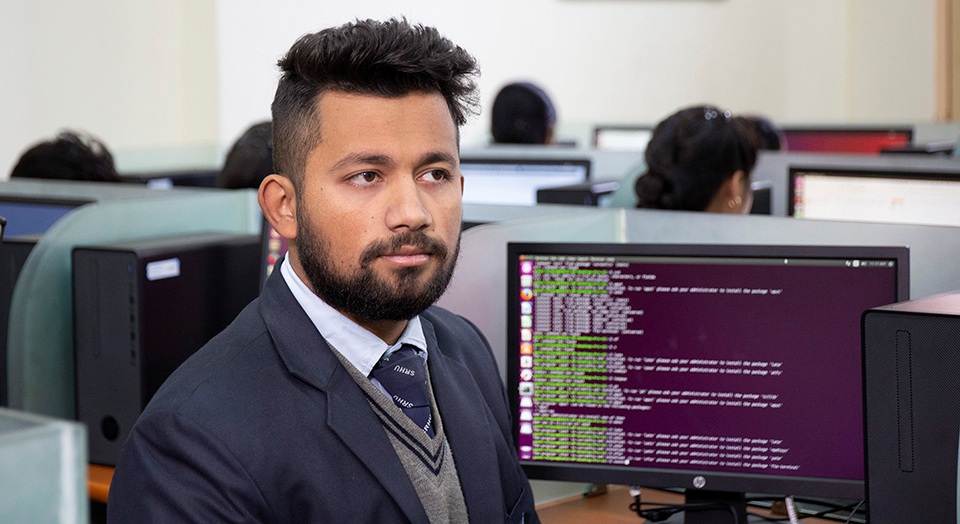 2. Data Science & Machine Learning
---
Data science is a broad field that deals with the study and analysis of large amounts of data. Data Science engineers are required to use various tools and techniques from the disciplines of applied statistics, mathematics, and computer science to get greater insight and to make better and informed decisions for various purposes. Data visualization is another important part of studying Data Science as it helps share your findings with other team members. In industry, there is an increasing demand for professionals who are able to collect, process, and study large data sets and derive underlying trends and other insights. A large number of businesses are now relying on Data Science engineers to draw insights and take favorable actions for their businesses.
Students who are good at mathematics and statistics and wish to combine their interests with engineering applications can look to pursue this program.
Cybersecurity is a field that plays a vital role in protecting individuals, organizations, and nations from cyber threats. Pursuing a career in cybersecurity can give you the opportunity to make a significant contribution to society.
As for the scope of B.Tech in CSE with a specialization in cybersecurity in India, the outlook is very positive. With the growing digitization of businesses and government services, the demand for cybersecurity professionals is expected to increase significantly in the coming years. Additionally, the Indian government has launched several initiatives to promote cybersecurity awareness and skills development, which is expected to further boost the demand for cybersecurity professionals.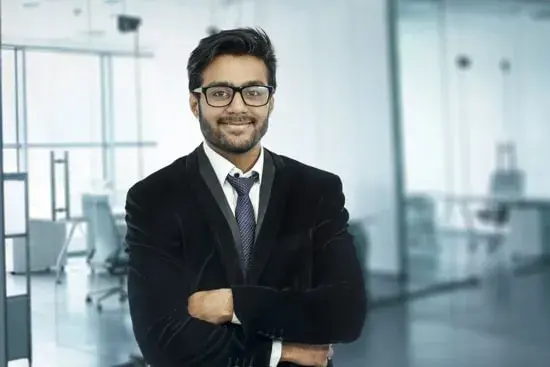 Advantages of B. Tech Computer Science Engineering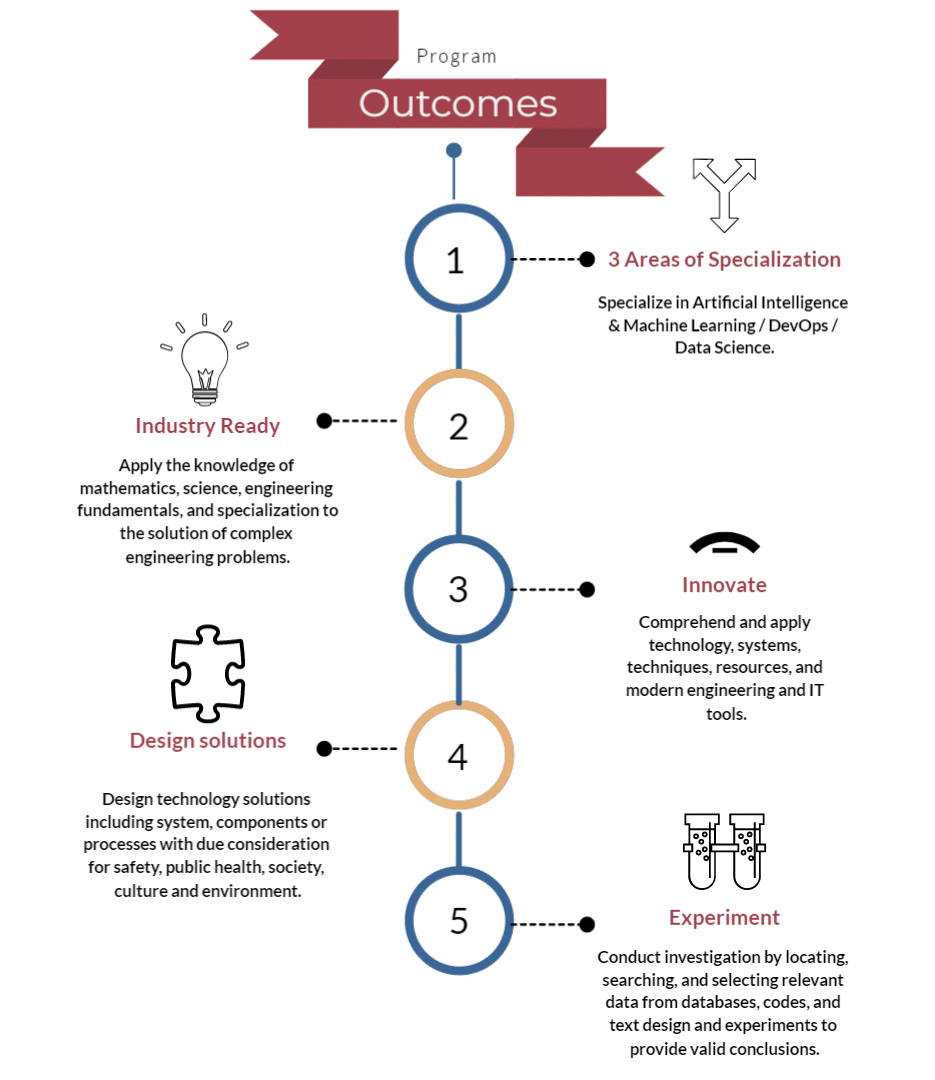 Regular Entry:
Duration: Four years (8 semesters)
---
The candidate must have passed 10+2 (Class XII) examination with Physics, Mathematics and Chemistry / Computer Science / Information Technology and obtained at least 60% marks as aggregate in 12th class from a recognized Board.
Lateral Entry:
Duration: Three years (6 semesters)
---
A candidate having diploma or B.Sc. degree with minimum 55% marks shall be eligible for direct admission to second year of B.Tech. program under lateral admissions. The criterion for direct admission is as given below
OR
Three years Diploma in Engineering / Technology with minimum 55% aggregate marks after 10th (Class X).
OR
Two years Diploma in Engineering / Technology with minimum 55% aggregate marks after 10+2 (Class XII).
OR
B.Sc. with Mathematics, Physics, Chemistry or Computer Science as compulsory courses with minimum 55% aggregate marks.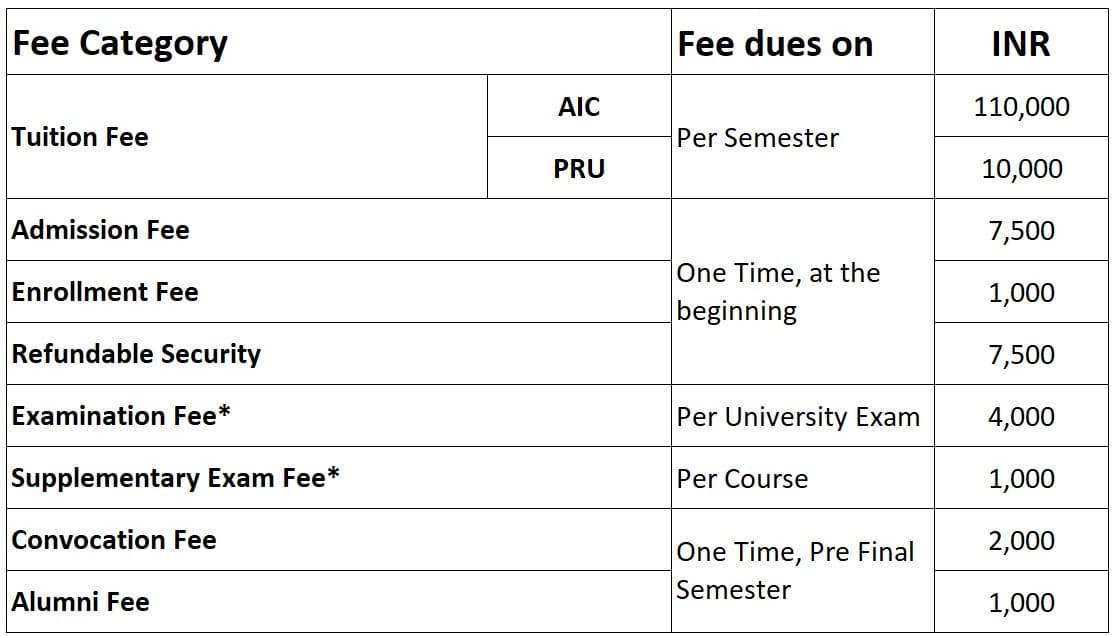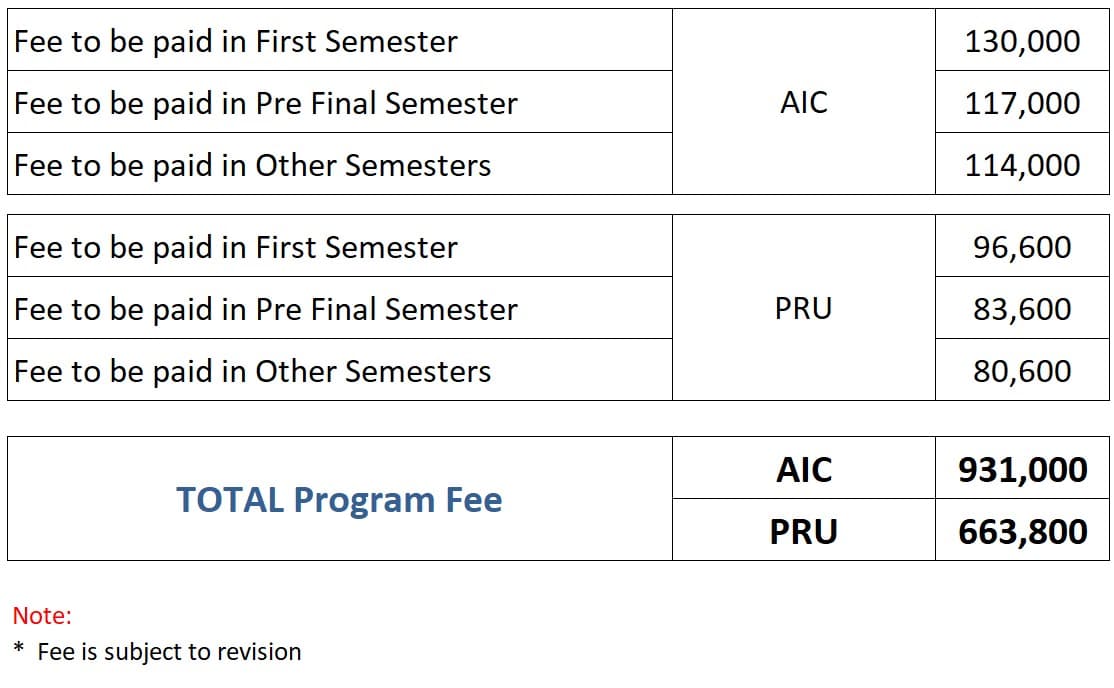 Scholarships & Fee Concession
Merit Scholarship
Up to 100% of Tuition Fees
Special Scholarship
Up to 100% of Tuition Fees for: Ward of Armed / Para Military / Police Force Personnel (Serving and Retd, Non-Commissioned Officer), Differently abled candidate, Transgender
Merit Cum Means Scholarship
Up to 50% of Tuition Fees
Fee Relaxation
25% Fee Concession for female candidate - B.Tech CSE & 26% Fee Relaxation for the students from Uttarakhand
Loan Facility
Interest free education loan
Free-Ship Scholarship
Free education to one candidate in each academic program of the University who is an orphan