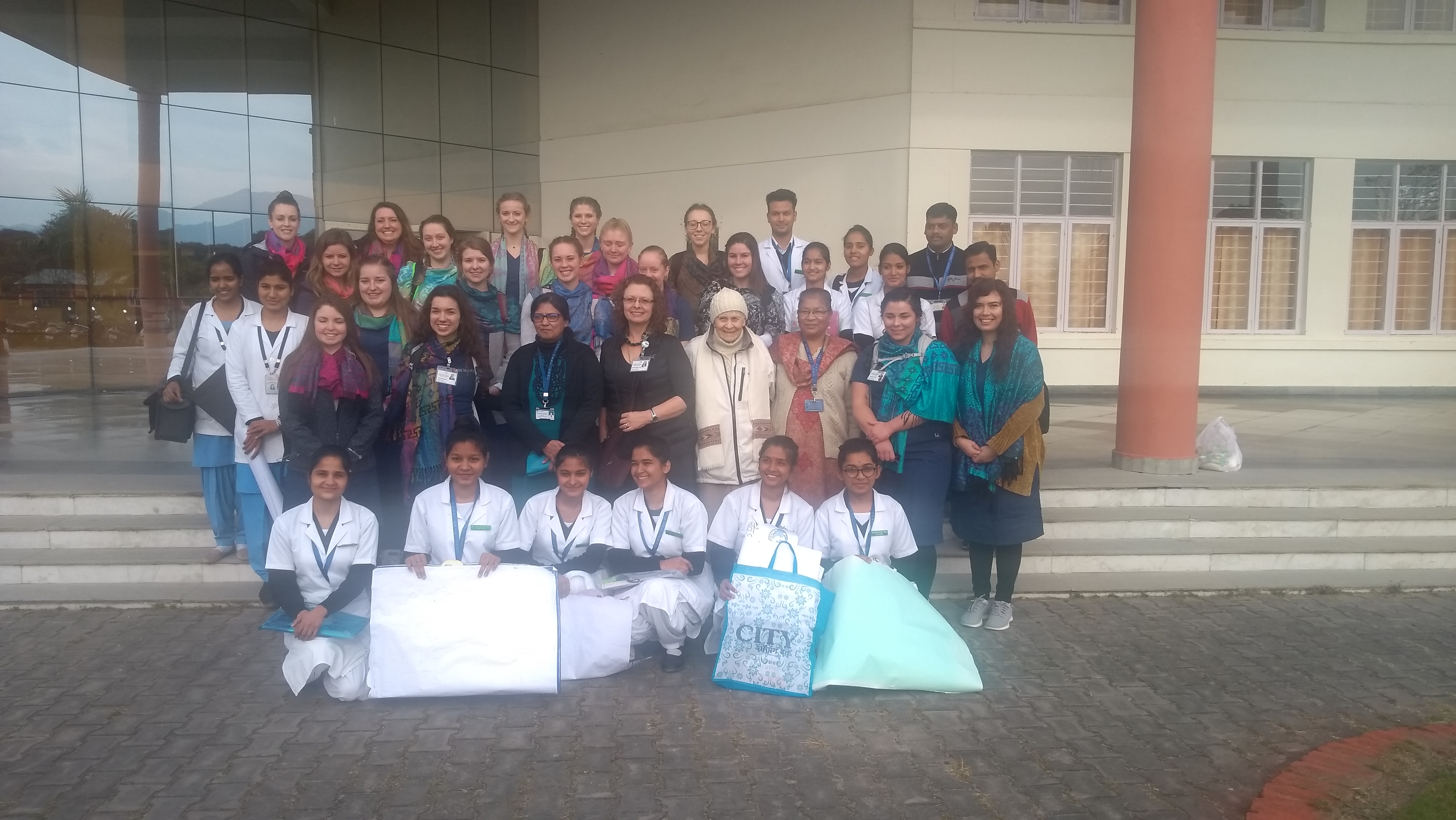 Report on Visit of Nursing Students of University of Wisconsin, USA
Seventeen Nursing students accompanied by one teacher from Oshkosh College of Nursing, University of Wisconsin (USA) visited Himalayan College of Nursing, Swami Rama Himalayan University Campus from January 8, 2019 to January 15, 2019. Main objective of their visit was to spread awareness on health and hygiene, sanitation, body posture, personality and manners among public including primary school students of rural areas of Doiwala Block.
Faculty of Community Health Nursing Department along with UG & PG students of Himalayan College of Nursing accompanied them during the visit. They visited PHC/ CHC/ Sub Center and schools of Bullawala, Thano, Badasi & Bhogpur community area where they provided Health Education on Dental hygiene and hand washing through puppet show and various models.Doctors at PHC in community area educated the students of Oshkosh University about AYUSH, Health system by Uttarakhand Government and Cold Chain Vaccines system.Students of Himalayan College of Nursinggave a nutritional demonstration by preparing therapeutic diet (Khichdi) for the patient in Thano village. Students of University of Wisconsin accompanied students of  Himalayan College of Nursing while performing various home procedures like monitoring of Blood Pressure & Blood sugar of community people.
Apart from visit to community areas they also visited Ayurveda Centre, Cancer Research Institute, Rural Development Institute& Swami Rama Centre of SRHU Campus where they got oriented to the various activities performed at these areas. They also interacted with students and faculty of Himalayan College of Nursing and exchanged their views on Nursing Education, Nursing Practice and Nursing Research.
The visit helped students of both the universities to expand their knowledge and perceptive regarding Nursing at larger interest of welfare population of both countries.