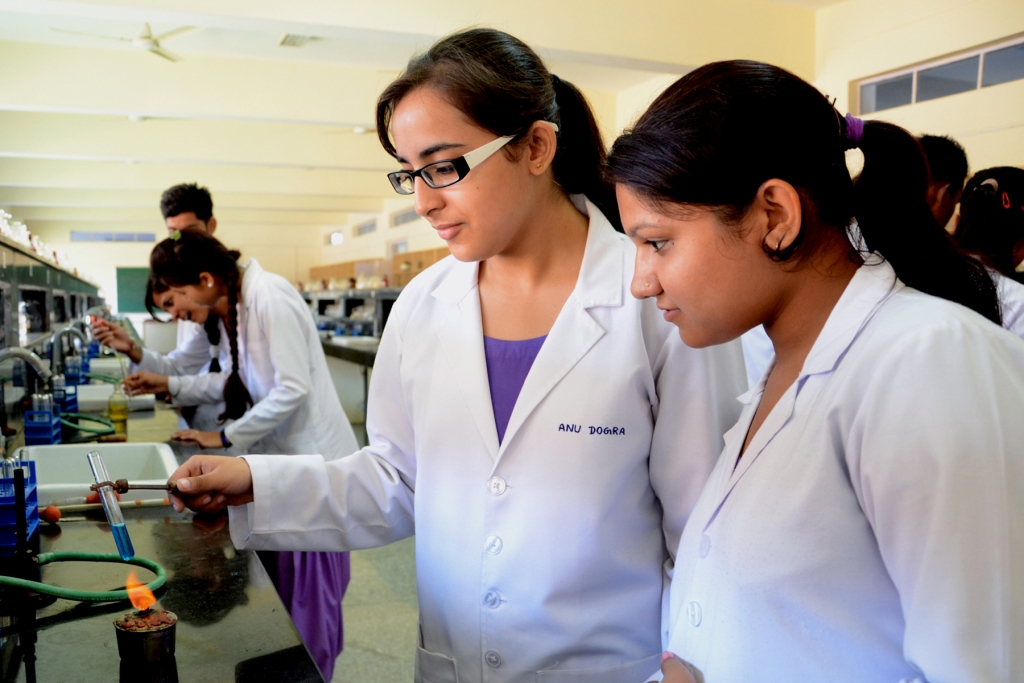 B.Sc. Medical Technology (Laboratory)
B.Sc. in Medical Laboratory Technology (BMLT) programme aims to provide technical training in laboratory medicine. Students are trained by highly qualified and experienced faculty in NABL accredited laboratories. The students receive an exposure along with hands-on training in the various areas of laboratory medicine such as Phlebotomy, Clinical Biochemistry, Haematology, Cytopathology, Microbiology, Immunology, Parasitology, Serology and Blood banking.
The increasing burden on health care services has expanded job opportunities for allied health professionals. This has opened career avenues in hospitals, public health laboratories, pharmaceuticals, research & product development, quality assurance companies and in sales & marketing. The trained technologists are involved in collecting information, sampling, testing, reporting and documenting medical investigations.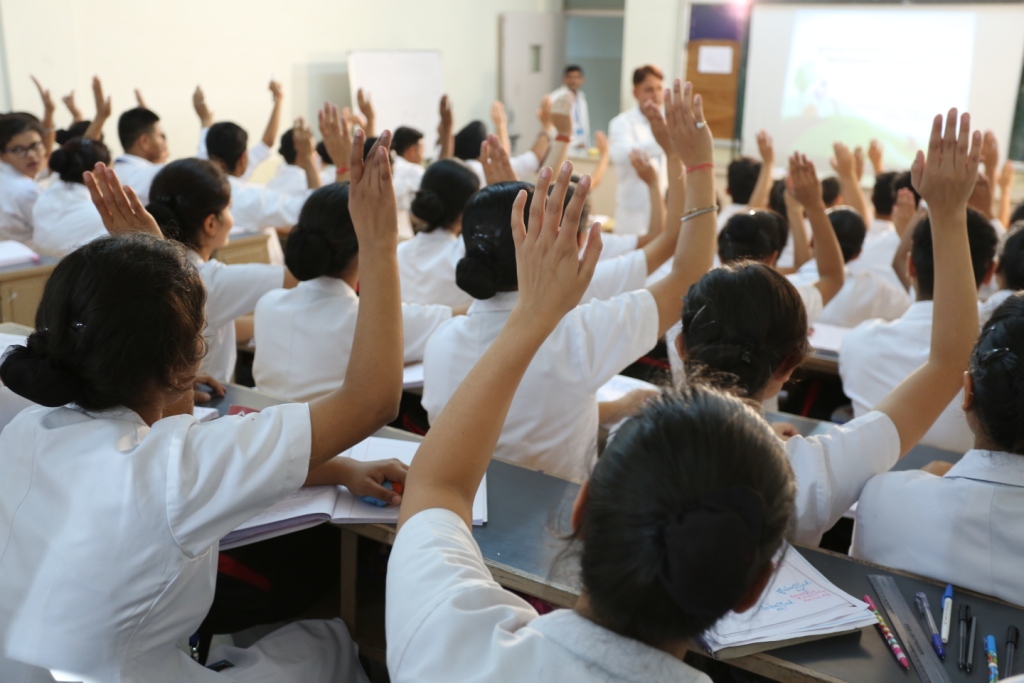 B.Sc. Medical Technology (Radiography & Imaging)
B.Sc. in Medical Radiography & Imaging Technology (BRIT) is a paramedical professional programme offered to individuals who will, one day, become efficient and knowledgeable Radiographers and perform diagnostic tests in medical treatment with the use of radiation. Radiography is the science of using images of the internal and hidden portions of the human body for the purpose of diagnosing diseases and ailments.
This includes the use of ultrasound, X-ray, CT scan, MRI, etc. Radiographers work as a part of the healthcare team in the Diagnostic Imaging Department, Accident & Emergency, Intensive Care Unit and Operating Theater.
Our hospital is equipped with MRI - 1.5 Tesla, Spiral CT - 64 slice, Digital subtraction Angiography, Mammography, Ultrasound, Color Doppler, Dexa Scan, OPG, Mobile Xray Unit, Digital Radiography and Computerized Radiography.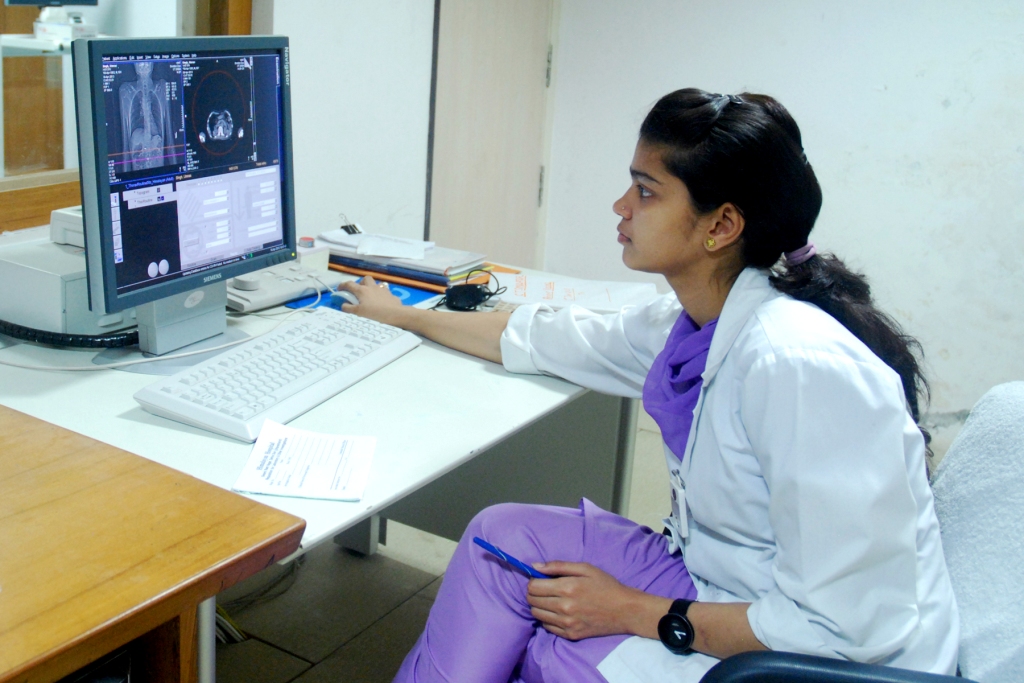 B.Sc. Medical Technology (Radiotherapy)
The curriculum of B.Sc. in Medical Radiotherapy Technology (BRT) includes basics of Anatomy & Physiology, Radiobiology, Clinical Radiation Therapy including cancer prevention screening and palliation in cancer, Medical radiation physics and Radiation safety.
Students are provided patient - care environment with meaningful communications and problem-solving skills.  Our students are trained on different image planning and Radiotherapy equipment – CT simulation, mould room, and Radiotherapy delivery procedures/techniques by mega voltage machines like linear accelerators dual energy for conventional/3DCRT/IMRT and Brachytherapy for cancer treatment. They are also trained in quality assurance procedures and networking of Radiotherapy images.
Experienced faculty teach and mentor students in therapy and research related programmes.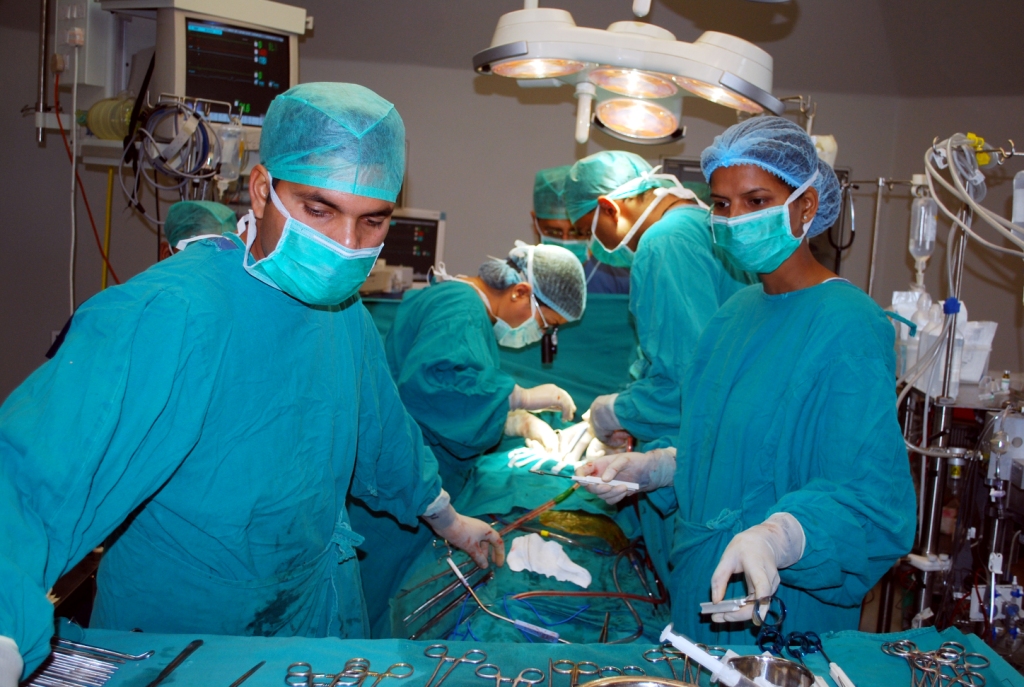 B.Sc. Medical Technology (Operation Theatre)
B.Sc. in Medical Operation Theatre Technology (BOT) is an allied medical programme designed to create a health care professional trained to assist in the administration and monitoring of anaesthesia and surgery. It provides students with required technical and interpersonal skills and prepares them for managing patients as well as for monitoring the nuances of an operation theater. We train students in areas of surgical procedures, surgical instruments, anaesthesia equipment & drugs, patient monitoring and OT Ethics.
Students assist the surgeon in operations and closely look after the drugs, anaesthetic gases, drapes and sterilization requirements during surgery. In addition, minor tasks of arranging operation theater/ instrument /anesthesia table and managing the staff prepares a professional Operation Theater Technician.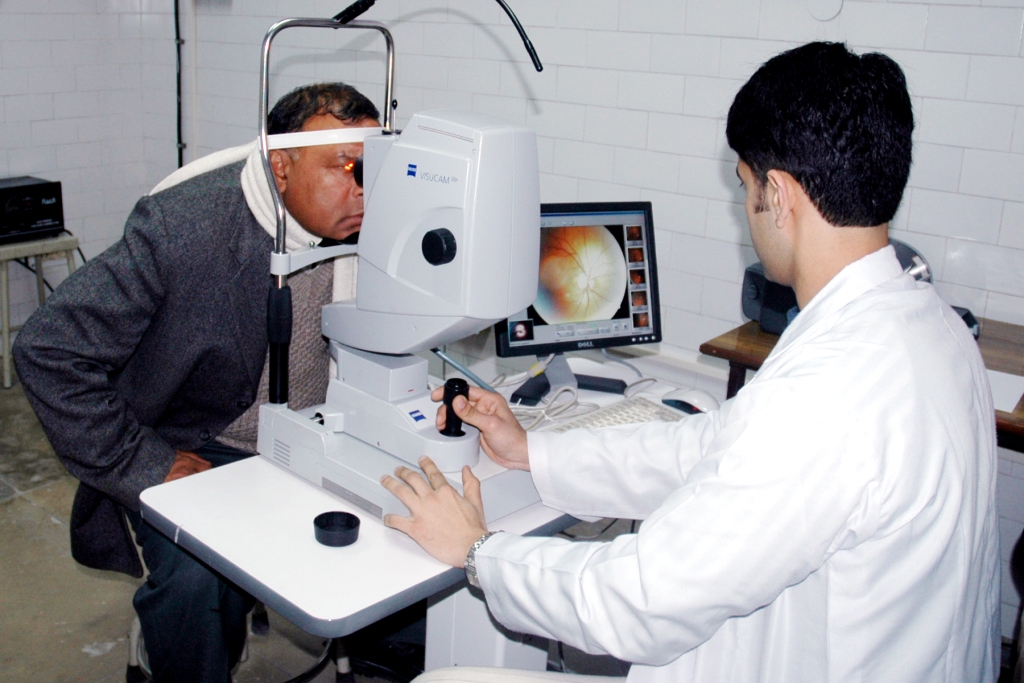 In Bachelor of Optometry programme (B.Opto) students gain an understanding of structure and functioning of the eye. They learn about prescribing spectacles, contact lenses, low vision devices, etc. They also help Ophthalmologists (eye doctors), learn orthoptics (eye muscle and squint related problems), and handle different instruments like OCT, Fundus camera, Automated visual field analyser, Pachymeter, Keratometer, A scan, B scan, NCT, etc. independently.
Students are taught by trained retina, cornea and paediatric ophthalmologists. On completion, students can either open their own optical centers or can work as optometrists in an eye hospital. They can opt for higher studies like M.Sc., Ph.D in optometry and can take up a career in teaching in optometry schools, or go for fellowships in different branches of eye and become specialists.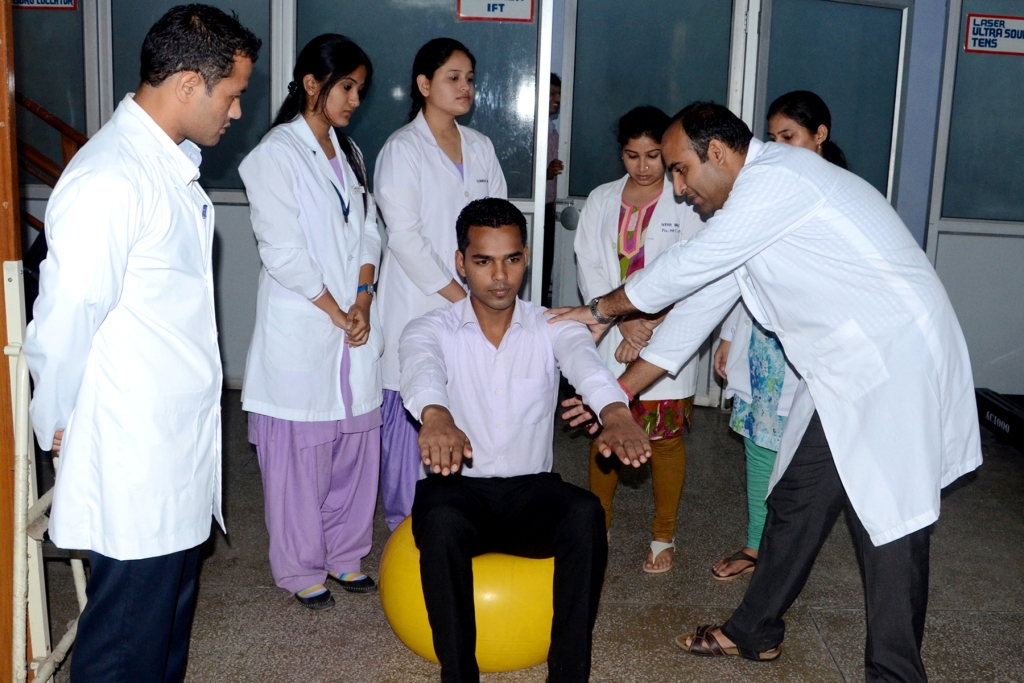 Bachelor of Physiotherapy (BPT)
Physiotherapy (under Orthopaedics) has been in existence in Himalayan Hospital since 1994 as a physical Rehabilitation Department which was later renamed as Physiotherapy, in 1998.
While a diploma in physiotherapy had been on offer since 2003-2005, a Bachelor's programme was introduced in 2004 and, subsequently, Masters of Physiotherapy was started in various specializations such as, MPT (Ortho), MPT (Neuro), MPT (Cardio pulmonary), and CBR, in the year 2009.
The faculty in the department has vast clinical and academic experience and is further supported by eminent and experienced faculty from Anatomy, Physiology, Biochemistry, Microbiology, Pathology, Pharmacology and Biostatistics which provide students the right platform for practical and theoretical learning.
In order to keep up with the latest trends and skills, the department organizes workshops, CMEs & hands on training programmes by experts from both, within the department and, other premier institutes. We have a well-stocked library where students can gain required knowledge by using facilities both from central as well as the departmental library.
It is noteworthy that students in the department get a unique exposure to variety of patient care under ultra-modern facilities across multi-specialty OPDs/ IPDs/ ICU.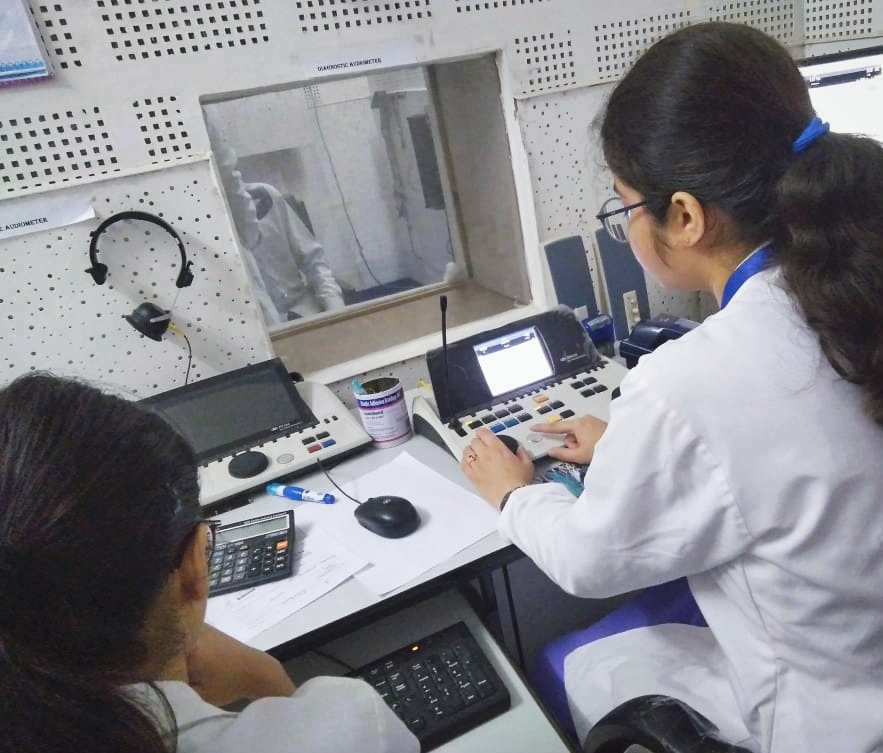 Bachelor in Audiology and Speech Language Pathology (BASLP)
Audiology deals with study of sound, hearing & balance disorders. Speech Language Pathology deals with the study of communication disorders i.e. speech and languages. Recognized by Rehabilitation Council of India (RCI), this program trains students to become audiologists and speech language pathologists. Students are professionally trained to identify, prevent, and treat hearing & balance and speech disorders in people. Students are also trained for rehabilitation of people suffering from these disorders.